'The Bachelor' Sean Lowe Picks A Wife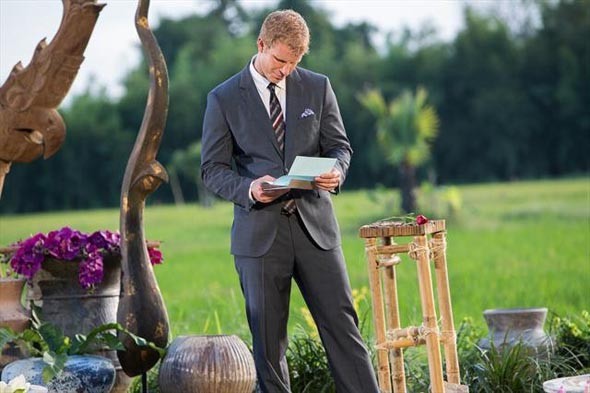 This is the week we have all been waiting for- Sean will get down on one knee and propose to either Catherine or Lindsay. Sean's family joins him in Thailand and his mom seems a little uneasy about why his mind isn't made up about whom he will make his wife. Catherine will meet Sean's family first and she admits that she is a big ball of nerves. After a brief dinner, Sean's mom takes Catherine aside and asks her when she knew that she was falling in love with Sean. She tells his mom that she never wants to let Sean go. Sean's father asks Catherine how she knows that she loves him and she tells him that she just wants a best friend and he tears up and says that if she is the one, he will be her biggest fan.
Lindsay arrives next to meet Sean's family and she is noticeably nervous as well. His family laughs at Lindsay's attempt to catch Sean's attention right off the bat by getting out of the limo in a wedding gown. Sean's father gets emotional again with Lindsay and tells her that he has been praying for a wife for Sean and hopefully it is her. Lindsay tells Sean's mother that they both share the same values and she is so happy that his family is amazing as well. At this point we will be sad no matter who he chooses to let go and are certain that one girl will have her heart broken in the end.
Sean has a one-on-one with his mother and she begins to cry and tells him that she just wants him to be happy. As his entire family leaves him alone to think about his final decision, it is unclear to us who he is leaning towards. He has one more date with each girl to figure out if he will be proposing to Lindsay, Catherine or no one. Lindsay and Sean have their date first and the two take a raft ride down the Mekong River with some champagne. The two seem to be head over heels in love but we can't help but think that he feels the same way about Catherine. Who will he pick?
Catherine and Sean's date begin with a ride on an elephant. Catherine wants to tell Sean how she feels about him and to make sure that he knows she sees him in her future but it is difficult for her to open up. She hesitates to tell him that she loves him because she doesn't want it to be for no reason. In a subtle way, Sean reassures her it wouldn't be and we think that he knows right there that she is the one. Just when he is about to leave her, she finally tells him that she loves him. The two share a very heartfelt, endearing moment but Catherine feels like she is about to get dumped and walks back out to give Sean another hug.
As Sean wakes up the next morning and prances around the hotel room half naked, he reminisces about the moments he met both Catherine and Lindsay. He gets a knock on the door from Neil Lane….normal, right? And chooses the engagement ring that he will place on one of the girl's fingers. And it is gorgeous! As the ladies get ready to go meet Sean for either the last time or the start of their life together, Catherine seems to have reservations. Sean admits that this is going to be the most difficult moment of his life and we can tell that he is as heartbroken as the girl he will let go will be.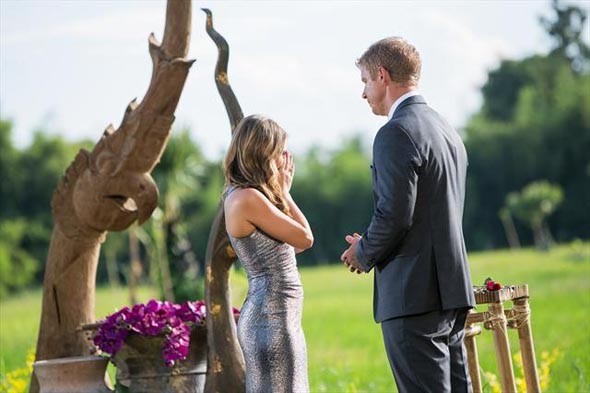 Lindsay gets out of the car first and Chris Harrison leads her over to Sean. Will she be the one or the one to go home? He breaks it to Lindsay that his heart is with Catherine and that he can't propose to her. As Sean says goodbye to Lindsay, you can see the hurt in his eyes and the heartbreak in hers as she asks, "Is it me?" Poor thing. She rips off her heels and stomps back down the path that led her to her nightmare.
Chris Harrison then comes down the path with a letter from Catherine and we are all led to believe that she is backing down…but she makes her way down the path to him and we learn that the letter is her way of expressing her feelings. Sean tells Catherine that he never wants to say goodbye to her and that he wants to love her every day as he gets down on one knee and asks her to be his wife. And snap, she gets that final rose too!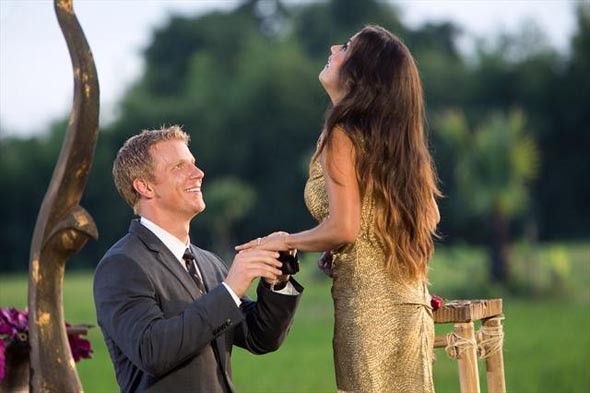 Browse more pictures from 'The Bachelor' Finale