'The Bachelor' Sean Lowe Brings The Girls Up North For Some Alone Time In The Rockies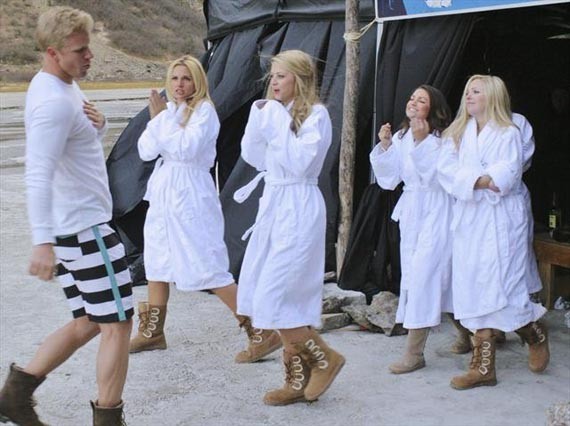 The remaining nine ladies head up to Canada with Sean this week for some crazy fun in the Rockies- eh? Chris Harrison meets the girls as they step out of the limos and lets them know what dates are in store for them. The one-on-one date card goes to Catherine and we are sure Tierra is thinking, "what the heck is that aboot?' As Catherine waits for Sean in the freezing cold, in the middle of nowhere, he pulls up in a giant snow bus and hands Catherine a snow suit so the two can go play in a glacier. The dates these girls get to go on are unreal…have you ever met a girl who has been to a glacier on her first date? We sure haven't. Although Catherine was never a frontrunner in our book, those adorable rosy cheeks, red snow suit and her playful personality make her shine at this moment- in our eyes and in Sean's. After their play date, the two take a carriage ride to an ice castle where they will sit on a white, fluffy couch and dine by the fire as the snow falls outside the glorious ice walls. Seriously? After she opens up and shares a personal story about her childhood, Catherine gets a rose.
Back at the hotel, the next date card comes for Tierra, AshLee, Daniella, Selma, Lindsay, Sarah and Lesley, who will be 'bearing their souls' with Sean. Daniella is a little pissed and confused because she is the only one who hasn't had alone time with Sean but Desiree is excited because she knows that she will be spending some quality time alone with Sean.
The lovely ladies show up for the group date but Sean is a little hesitant to relax because he feels that there will be some drama involved, as there always is with Tierra. The girls have to canoe across the river and although Sarah is struggling, she is determined to show Sean that she can do anything that the other girls can do. Lesley jumps at the chance to be in Sean's canoe as the other girls roll their eyes in jealously. The boats finally make it to shore where they see a bunch of tents lined up and get word that they will be doing a Polar Bear plunge in which they will submerge themselves in the freezing cold water, clad in their bikinis. It is going to get a tad bit nippy up in here! The girls and Sean change into their skivvies (except Selma from Baghdad- the desert she points out) as the wind chill whips through their long locks. And cue up the shirtless shot of Sean….thank you ABC. All the girls make the plunge as they shriek and scream and then run back to shore into the warm embrace of their robes and towels. Drama queen Tierra starts her solid gold acting and collapses into the arms of the lifeguard as she starts to emotionally unravel. She gets carried away by the medic and the lifeguard as the girls sit back and watch in disgust. Desiree and Catherine run downstairs to see who it was that was taken away in a wheelchair and when they see Tierra in the disheveled state she is in it makes them wonder what happened to the other girls. In come the others, screaming in joy from the rush they got from the lounge. Just another ploy in her 'Tierra is always the victim' scheme. When Sean comes in to pay her a visit (and admits that she always finds a way to get alone time with him) she says, "after that, you better marry me!" Oh Lord! The remaining group date girls meet Sean for the evening portion of their date, a little happy that Tierra won't be joining them, when all of a sudden- she walks in…wow, this girl won't stop! Sean asks Tierra if they were to fall in love on the show, would she want to proposal at the end and she says of course! Is he an idiot? But who will get the rose? Lesley…not Tierra, JOY!
Sean has mixed feelings about Sarah and although he thinks she is the sweetest girl on Earth, he doesn't feel that connection with her and sends her home, visibly upset. Poor girl. On Desiree's one-on-one date with Sean, the two take a stroll through the serene forest together to have a picnic, at the bottom of the mountain they are standing on. Here he goes propelling off things again. Sean is hoping to solidify the bond that the two share, the one she continues to question. As he coaches her down, she whimpers like a little puppy dog but does manage to stop a few times to steal a kiss. The two have dinner in a teepee after they climb a tree together and Des gets to take home the rose.
At the pre-rose ceremony, the girls realize that after Sarah's departure, anyone can go at any time. Yet, they are hopeful that he will finally send Tierra home. But will he? Sean takes Selma aside first and she breaks her rule and kisses him on television, although she may be shunned by her mother forever. She may not have the courage to jump in an icy cold body of water but she will defy her mother on national television. Catherine, Des and Lesley already have their roses as the remaining three go to Lindsay, AshLee and Tierra sending Selma and Daniella home….ouch!