'The Bachelor' Recap: Waking Up In Vegas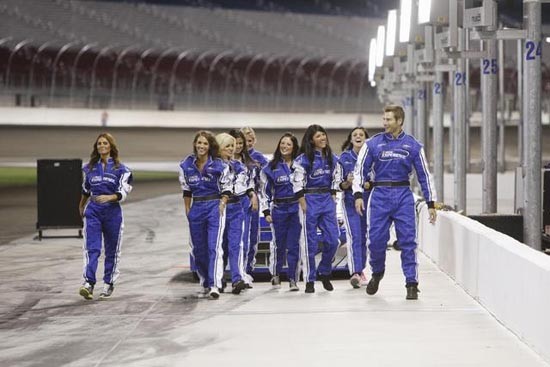 Last week, ABC's promo department sparked controversy on 'Bachelor' message boards and drew ire from outraged commentators who were appalled to see Emily on a date at the race track. After all, the sweet single mom had lost her race-car driving fiance in a plane crash less than a week before finding out she was pregnant with his child, and this date seemed specifically designed to exploit her grief. Is "The Bachelor" really that tasteless and insensitive? Um... this isn't exactly a revelation, is it?
Before we get to Emily's inevitable discomfort, let's rewind to the beginning of the episode -- back to a time when getting stuck on the 2-on-1 date seemed like the ultimate tragedy. Chris overviews the next round of dates, and then announces that the 11 remaining bachelorettes are all going to Vegas, Baby!!! The biggest twist --- they have only one hour to pack! Jaws drop! Gowns fly! Girls disappear in clouds of makeup! Eventually, everyone makes it to Las Vegas, just in time to meet Brad and plug all their wonderful, amazing corporate sponsors. 
 
Shawntel gets the first one-on-one date with the bachelor, and he takes her to… the mall! The high-end shopping spree softens the whole tacky middle-school vibe and makes it more evocative of "Pretty Woman," which Ashley S notes is every girl's fantasy.  I'll grant her that it's probably every hooker's fantasy. Needless to say, all the other bachelorettes are extremely jealous.
 
Later that night, Brad and Shawntel return to the mall for a rooftop dinner, and Cinderella tells the Prince about her unconventional day job. No, she's not a paid escort like Julia Roberts was, although Brad may have preferred that to her actual vocation of funeral director/embalmer. Shawntel obviously takes her job seriously, and is eager to explain the embalming process while chomping on the raw flesh of a tuna fish. Brad pretends he's not absolutely disgusted by the conversation, twitching and flinching before ultimately devolving into a fit of giggles. Yeah, it's a shame to think of that pretty $5000 bag sitting next to all those dead bodies, as their blood gets converted into chemicals. There's some talk of a cross-eyed cat (I think), and Brad admits that regardless of the whole "Six Feet Under" thing, he thinks Shawntel is purty. Plus, there are fireworks, and he's not about to call off that explosive display. So, Shawntel gets a rose.
The group date card arrives at the suite with a cryptic message about speed, and news of an Ashley v Ashley showdown. I hate to say I agree with Michelle but I kind of agree with Michelle. I think it is time for the Ashley's to part and go their separate ways. They're both annoying and whiny and completely redundant. One is more than enough.
 
The group-daters arrive at the racetrack, and Brad pulls up in a Nascar racecar. As the ladies suit up, Jackie summarizes Emily's backstory, surmising that the date might not be especially thrilling to her. Brad also realizes something's up and pulls her aside to talk. He feels like a jerk and offers to leave, but she insists on staying and driving a car through her tears. Triumphant music plays and we know that Emily is now ready to move on. Whatever ABC. Not cool.
 
The night continues with a pool party, and Brad quickly pulls Emily aside again. Em-pathy has waned by this point for at least one of the lesser-known bachelorettes.  As far as Alli (I think) is concerned, another girl's personal tragedy shouldn't be interfering with her face-time with the bachelor. Perhaps she'd feel better knowing that Brad's feelings of inadequacy were visibly irritating Emily, she'd feel better… but probably not.
 
In the various "Why do you pay so much attention to Emily" talks that follow, Chantal provides the most interesting fodder, by accidentally slipping LOVE into the conversation. With a bit of prodding from Brad, she says she may have meant it.
 
Michelle then decides to be the woman that Brad needs to boost his confidence back up to where it was before he started competing with someone's deceased fiancé.  Since conversation isn't a strong point for these two, they use the time to make out a little. It's just what Brad needs to feel confident enough to go... and give Emily the rose.  Oh well, Michelle…  best laid plans… 
 
The Ashley showdown commences and Brad takes his daughters to the Elvis-themed Cirque de Soleil show. Despite Ashley in Blue displaying no aptitude for performing whatsoever on her Seal sing-along date, both she and Ashley in B/W are expected to take the stage. (Quick and worthwhile cutaway to the suite where the
Chantal/Shawntel faction debate the merits of the two interchangeable members of the Ashley contingency. Might a two-on-two date have been a fun way to mix things up? Too obvious a ploy to end the reign of the Ashleys? Discuss.)
At dinner, Brad selects which Ashley to send home and Blue gets the boot. B/W gets the rose and a chance to  be suspended in midair with Brad in a Cirque show. Blue leaves and recounts how far she has fallen since the days of the first impression rose in an interminable, teary-eyed monologue that's intercut with Brad and B/W dancing in midair to "Are You Lonesome Tonight."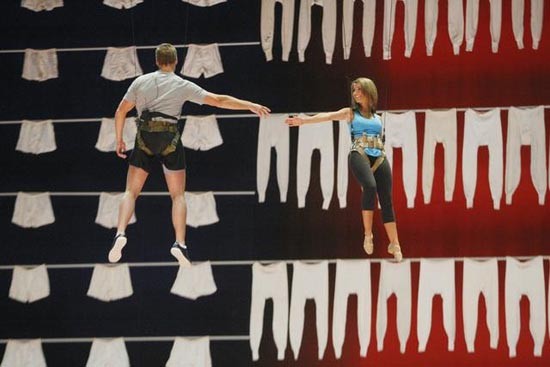 The week's dates done, Brad phones his therapist, and I honestly cannot take any therapist that calls himself Jamie seriously enough to bother paying attention to their conversation.
 
Fast forward to the pre-rose ceremony party. Brad tells Chantal to stop giving him so much crap, and then gives Alli the face-time she's been craving. He also throws in a pastry that is personalized to include the one detail he knows about her – she was wearing green when she got to the house five weeks ago. They're really close.
 
Marissa, who has gotten even less time with Brad than Alli, uses the opportunity to give him a note or series of text messages since that's what she would do if they were dating in real life. As if real-life has any relevance whatsoever. Silly girl.
Brad hands out his remaining roses to Michelle, Alli, Brit, Jackie, and Chantal. Marissa and Lisa are sent home on the basis that Brad may never have actually spoken more than seven words to either of them. Brad toasts to his confidence and the ladies that remain.
 
Next week is a trip to Costa Rica, and after that, Africa and a lot of animals. Who do you think will get the final rose? Can you tell which Ashley was packing up the giant teddy bear in the closing credits? Was the racing date cruel or cool? Chantal or Shawntel? Let us know!