'The Bachelor' Recap: The Black Eye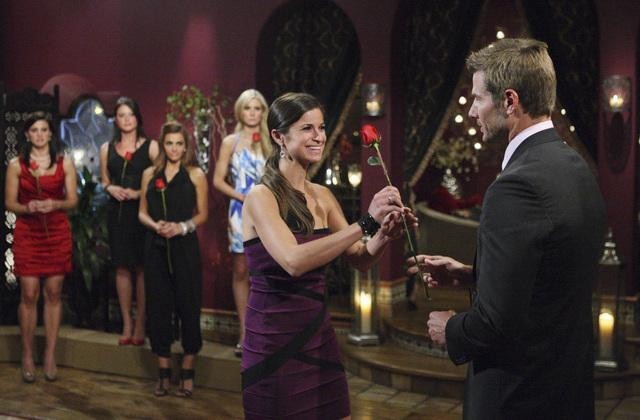 This week, "The Bachelor" began with Michelle waking up to discover that somehow, she had gotten a black eye overnight. No one has any idea what happened, when it happened, or how it happened. For a second, it seems like the episode could play out like "The Hangover," but then Chantal O gets the one-on-one date with Brad, and we know we're in for a "Black Swan" kind of night. Mind games, intense competition, psychological drama – yeah, that's about right.
On their date, Brad gets Chantal to fight past her fears and dance with him in a romantic underwater ballet. The Darren Aranofsky homage really shows here, with the show's moodiest scuba scene to date. Cloudy puke-green colored water?  A few dull colored fish? We're used to seeing people on this show inserted into scenes from animated Disney movies. This is just weird.
Chantal gets her rose after some romantic rain and meaningful reminiscing about the time she slapped him across the face.  Brad's into that kind of thing and as long as her divorce hasn't put her off to the idea of marriage, he'd like her to smack him around for as long she wants.
For the group date, Brad brings the woman to a radio station for a therapy session with Dr. Drew. Does this even qualify as a "date." Stacey, who I swear I have never seen before, admits to having cheated on her college boyfriend. Some blonde girl who has gotten little-to-no airtime talks about wanting more of it. Everyone else quickly reaches the same conclusion and the competition for "alone time" gets more intense than ever.
After therapy, Brad takes the women to a hot tub. Ashley H is emotional and negative and doesn't get a rose. The unseen blonde makes up some major ground and gets a kiss, a rose, and a name. Brit is officially in the game.
On the morning of Michelle's date, Brad pulls Ashley H aside to talk. To avoid a violent eruption, the others gently reassure Michelle that it is still her special day, and Chantal reclaims her position as enemy number one.
Brad takes Michelle to his house and she's all happy to just sit and talk… until the helicopter arrives and takes them to rappel down the side of a building in downtown LA. Michelle freaks out until she makes the same ridiculous leap of faith for love metaphors that bachelors and bachelorettes have been making for the ten to twelve seasons since they started doing these extreme sports stunt dates on the show. On the other hand, Ali, Jake, and Jillian have all given their last rose to the person they jumped off a cliff or building with, so maybe there is something lucky about the leap date.
Jamie the Therapist (not a contestant) is back for some one-on-one time with the emotionally-stunted bachelor. This week's lesson: Just Go With It. (May or may not be product placement for the Adam Sandler/Jennifer Aniston rom-com coming soon.)
Brad gives the girls who didn't get dates some reassurance in the form of backhanded compliments. He thanks Shawntel for their understated connection and Meghan for not needing to dance around in the hot tub like the other girls. He regurgitates the psychobabble he learned in therapy as required, and then gives everyone the middle finger and takes Emily off for a special magical moment.
Emily's had all week to curl her hair just right and it shows. She and Brad have missed each other greatly and everyone else feels dumb.  Chantal feels really dumb.
Brad hands out his roses and we creep an inch closer to the finish line. Apparently, the fact that Meghan does not dance around in the hot tub was not as good as he would have let her believe, Stacey should never have admitted to cheating on the Dr. Drew show, and Lindsay's dad would have been proud of her for being the girl that he and her mom raised her to be. Hmmm-kay…. Good luck, ladies.
Next week: The Hangover! Brad's taking the girl's to Vegas and Emily to a race track. Could the show be more insensitive? Tune in to find out.
In the meanwhile, where do you think Michelle's black eye came from? Will she strike (herself) again? Would you go out with a guy who takes you to therapy and calls it a date? Let us know!