'The Bachelor' Recap: Juan Pablo Takes Full Advantage Of Fantasy Suite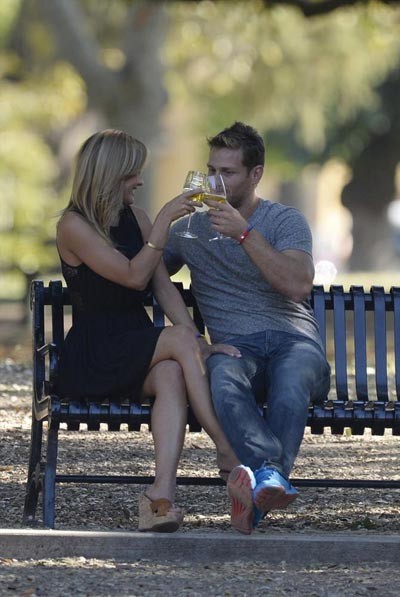 Juan Pablo takes his remaining three ladies, Nikki, Andi and Clare to St. Lucia where he will have a chance to spend the night with each one in the fantasy suite. Clare gets her date with JP first on a beautiful yacht and as we try and deal with yet another week hearing Clare's voice, we almost hope he votes her off the island. But will she take him up on his offer of the fantasy suite? After that night in the ocean at 4:00 am, we don't think she will join him later in the night. Or she just wanted to act like she cared deeply about it and had to make a point of saying it before she said yes.
The next day after his shmack in the sack with Clare, he meets Andi at the beach for her date - just like every first overnight date should be, right? Sloppy seconds! We just can't help but think that Clare just might pop up out of those steal drums insinuating a slicing motion with her finger across her throat at. After the two take a ride in his dune buggy, they have a nice, relaxing picnic by the waterfall. When JP tells Andi what her father said to him last week, she giggles, takes off her clothes and jumps in the water with him - but we knew something was up though because we did see the previews. After the two get the very straightforward fantasy suite invitation, Andi agrees to spend the night with JP. But she admits that she couldn't wait to get the hell out of there when she woke up. Apparently Juan Pablo is selfish and bragged about his overnight date with Clare to Andi, which is clearly a big no-no in all women's books.
On Nikki's sloppy thirds turn, she shows up in a bikini to ride horses. During their boring dinner, he offers her the key to the fantasy suite and without further ado she quickly accepted. But she does hesitate a bit to actually tell him that she loves him. And from here on out, we can't understand anything JP says to her.
After a brief meeting/pep session with Chris Harrison and a little translation help, she tells him that he is having strong feelings about the girls. We're still not convinced that she has found the one yet…but just as he is watching the beautiful video messages from the girls, Andi decides to tell him in person that he wasn't the one for her. And JP gets dumped for the second time this season but she doesn't let him get away with his dumb comments. Oh Miss Andi gets feisty. Just don't say the word 'OK' in her presence…EVER! Well, we guess there's nothing else to do here in St. Lucia, kids, there won't be a rose ceremony tonight and next week he will either propose to Nikki or Clare. Yawn.