'The Bachelor' Recap: Juan Pablo Is Back Ladies!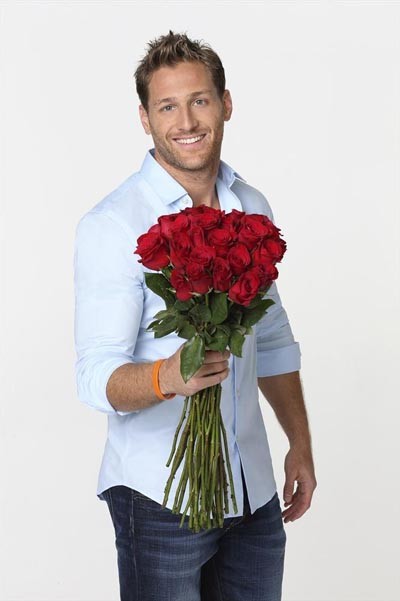 Former Bachelorette contestant, professional soccer player and single father, Juan Pablo is ready to find love on this season of The Bachelor. Will he find his future wife in one of the twenty-five contestants or will he be alone (with his daughter Camila) once again? Either way, we are guaranteed to see a whole lot of skin this season…get ready ladies, Juan Pablo has arrived! Before he meets the lucky ladies, former Bachelor Sean Lowe sits down with Juan Pablo to give him some key advice, like how to remember all of their names. Usually it drives us nuts when ABC shows the guys showering and getting ready but with Juan Pablo, its okay. Now let's meet the ladies….
Twenty-four year old Chelsie from Ohio is already too young in our mind because we don't think she seems mature enough to be a mom. Renee from Sarasota has a son, which will clearly bring her and Juan Pablo together. Andi is a prosecutor in Atlanta who has the beauty and the brains. Massage therapist, Amy from Los Angeles is a tad odd for our liking but maybe he will find that endearing, not to mention she has the bone structure of Courtney Thorne-Smith. Nikki from Missouri is a pediatric nurse who seems like she has a heart of gold. Oklahoma girl, Lauren H., has had her heart broken from her ex-fiancé and seems like she is totally ready to dive into love headfirst. But she's a mineral coordinator? Huh? Valerie is a personal trainer from California who seems like she is ready to fight for Juan Pablo's heart.
Lacy, also a California girl grew up with multiple siblings with special needs and has her own elderly care facility. This chick is absolutely amazing! Another Cali girl, Claire is a hairstylist who also speaks Spanish and has a special DVD from her late father for her future husband. We are just hoping these ladies will love him for his heart, not just his looks. To Juan Pablo's surprise, there won't be twenty-five ladies to meet, there will be twenty-seven due to the overwhelming number of applicants they received. Let's just hope there are a few keepers!
First out of the limo is news reporter, Amy L. followed by former NBA dancer, Cassandra and big boobs McGee err Christie. Christine steps out of the limo with a gift for Juan Pablo's daughter and Kat the dancer wants him to teach her Salsa. Chantel correctly pronounces his name right and Victoria who is from Brazil know a little bit of Spanish. Next, Lucy the 'free spirit' comes out barefoot and very hippie like…we've heard she is Kate Upton's best friend, so at least she has that going for her. Danielle, another nurse says she has a present for him inside and as she walks in the mansion, Lauren S. is struggling to get her piano bike up the hill, what the hell is going on? We feel a little like these ladies are his biggest fans, not potential wives.
Elise and Ashley are both sparkling in gold while Claire tries to pull a fast one on Juan Pablo by sticking a something in her dress to make it look like she was pregnant. A little odd but Juan Pablo is kind of digging it. Alli comes out dribbling a soccer ball and immediately has his attention. Maggie is a southern girl through and through who brought him a fishing hook because he is a 'catch' ba-dum-ching! Kelly, the dog lover (is that a profession?) brings her dog Molly to meet Juan Pablo too. Alexis from Florida comes out on fire, spitting out the Spanish while Kylie the redhead can't get enough of his hugs. Opera singer, Sharleen from Canada has a sexy, deep, sultry voice yet seems overly nervous. With all these beautiful ladies, how will he send any of them home? We suggest weeding out the Juan Pablo groupies and keeping the serious ones.
When Chris brings the first impression rose into the room, the claws come out and the daggers are being fired from eye to eye. As Lauren H. is struggling to get alone time with Juan Pablo, we can see in her eyes that she is still in love with her ex-fiancé and she breaks down in tears. Finally, she has her chance to talk to him but doesn't seem to impress him with her endless stories about her ex. We thought the first impression rose would go to Andi but he skips right by her and gives the rose to Sharleen who admits that she doesn't have a connection with him. Hmmmm.
At the dreaded rose ceremony the first rose goes to Claire, then Nikki, Renee, Andi, Alli, Chantel, Lauren S., Kelly (and yes, she brought her dog), Cassandra, Danielle, Chelsie, Kat (Kylie accidentally steps forward in an awkward moment), Victoria, Christie (we think he meant to say "Christie's boobs"), Lucy, Elise and lastly Amy L. We think he weeded out the crazies already (like Amy J., Kylie and Lauren H.). We are calling our favorites right now as Claire, Renee and Andi but stay tuned next week to see if we are right!