'The Bachelor' Recap: Hometown Dates Filled With Awkward And Emotional Moments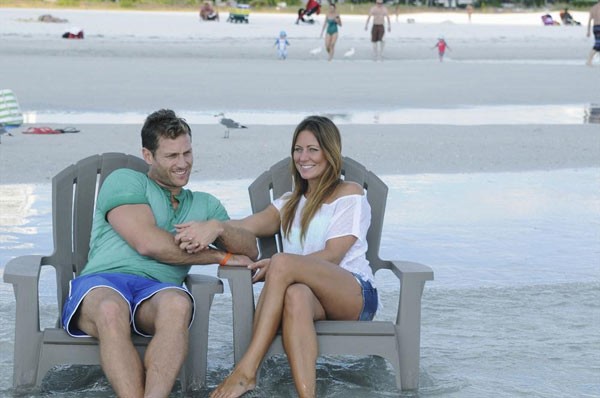 Juan Pablo jets off to Kansas City, Missouri to meet Nikki and her family but first she takes him to her favorite BBQ joint and for a ride on the mechanical bull. His cowboy skills certainly impress Nikki as she is on the verge of telling him that she loves him. Nikki's family is very supportive of her relationship with JP and they welcome him into their household with open arms- just as good mid-westerners should! But in the end, JP leaves without Nikki confessing her love to him.
Next up, Juan Pablo heads to Atlanta to meet Andi and her family. But first they go to the shooting range so she can show off for him. We can already feel the tension in the air from Andi's dad as she explains to them how she went on too many group dates before she got her first one-on-one date. After JP salsa dances with Andi's mom, he gets grilled by her dad…literally. He won't give JP his blessing until she is the only one left for him- will this change JP's feelings for Andi?
Not only does Renee get to spend some quality time with her son but she gets to introduce him to Juan Pablo in her hometown of Sarasota, Florida. Renee is the absolute cutest with her son, Ben and we think that JP falls a little bit more in love with Renee after he sees them interact. They make an adorable family and her parents are as cute as buttons but she didn't tell him she loved him either. Poor JP!
Last stop on the hometown dates is Clare's hometown of Sacramento. After their stroll though the rose garden, the two talk about her dad's passing and share a heartfelt moment. As the youngest of six kids, her sisters are very protective of her and want to make sure that her heart is protected. As all of Clare's sisters have a chance to talk to JP, we are wondering if Clare's mother even speaks? Yes, she does and she speaks Spanish at that. Bonus points!
Back in Miami, as Chris Harrison walks in all of the ladies, the rose ceremony begins after an emotional week of hometown visits. We have a feeling that JP will be sending Andi home after his uncomfortable conversation with her father. The first rose of the night goes to Nikki, then Clare and last but not least Andi, sending Renee back home to her son. Shocker! How cute is Juan Pablo though- he gets more emotional than some of the girls.  Maybe Renee will be the next Bachelorette?