'The Bachelor' Recap - Episode 2 Delivers With Catfights, Tears And Lots Of Drama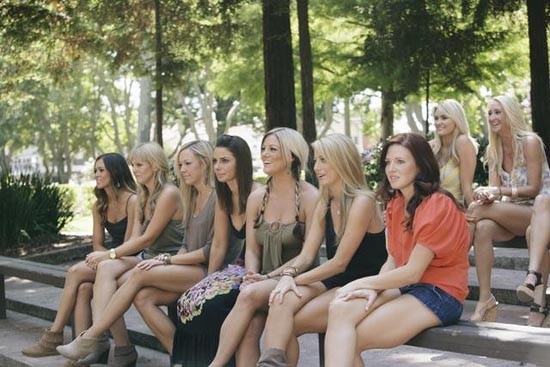 After a slow start, the second episode of The Bachelor delivers: there are catfights and competition, a change of scenery, two one-on-one dates, plenty of steamy-hot tub moments, one very awkward group date, and of course, rivers of tears from Jenna the Blogger. In other words: we get what we tuned in for!
The girls are plucked from the LA and whisked to Sonoma, California, Ben's hometown, and more commonly known as wine country. After the requisite 'ooh's' and 'aah's' over their new digs, Ben announces he has a date card – for Kacie, the administrative assistant from Tennessee.
As far as Bachelor dates go, this one was low on the chemistry/drama level, but high on the cheesy/sweet level. After a walk around the sleepy town- with stops at a candy store and a hotel lobby to "play" the piano, they end up in deep talk over dinner. What does Ben think of Kacie during this date? "[She] seems like a down-home girl", and that she is – a sweet, up-front baton-twirling Southern Belle who listens intently and nods politely, sure - but she doesn't seem to be enough of a challenge for a guy like Ben, who has indicated he enjoys pursuing girls who are though nuts to crack – diamonds in the rough.
The evening ended with a screening: both of their baby videos at a local theatre, which might be a cute way to get to know somebody if it had been done in, say, their livingroom, on a TV - after the third date. Instead, it's a set-up by producers, being filmed in a big empty theatre, and the two people involved have only spent about three hours alone together. Ever. Still, the date went well, and she got a rose (and a kiss!) at the end of it.
Back at the mansion, the group date picks are announced: Brittney, Rachel, Jennifer, Blakeley, Jenna, Shawn, Monica, Samantha, Jamie, Nicki and Jacqueline find out they will soon be enjoying Ben's (shared) company, and Lindzi, Casey, Courtney and Erica will stay behind.
Later that night is a requisite hot tub/pool dip, where Amber scores a few minutes of Ben's time by pulling him into a secluded corner to "talk" (make out). He seems to just be going through the motions with her, and minutes later, she sees him engaged in another pool-based makeout session, this time with Blakeley. Watching it go on for longer than socially acceptable, Amber eventually retreats to the house, bemoaning: "I don't know what to think! I was so sick to my stomach just thinking about it… I had to leave." Good idea: it was getting creepy.