'The Bachelor' Recap: Brad Is Back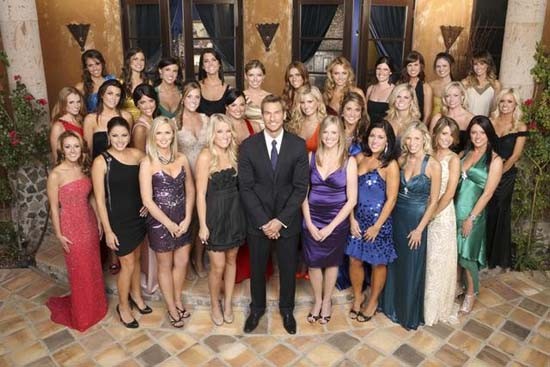 "The Bachelor" had plenty of cringe-worthy moments in 2010. There was the dude who wanted to "guard and protect" Ali's heart so much, he ran out and got a tattoo. Then, we were treated to the ewww-fest/spin-off known as "Bachelor Pad," a gruesome display if ever there was one. Still, it's a new year and the franchise seems to be courting a new low, trotting out a commitment-phobic former "Bachelor" whose introduction includes references to intense therapy and panic attacks. Here's hoping the 21st season will be the next 'Most Dramatic Season Yet!'
So without further ado….  Once again, it's Brad Womack! Top three things to know about Brad in order of importance: 1) His parents named him and his twin brother Brad and Chad. 2) He rejected both women in the final rose ceremony the first time he was on the show and has been vilified ever since. 3) He rarely gets credit but is responsible for starting a six-season long chain of Bachelors and Bachelorettes that just ended with Ali's band of misfit boys. (To recap: Brad dumped Deanna who dumped Jason who dumped Jillian who dumped Jake who was dumped by Ali who dumped Chris who didn't want to be on "The Bachelor" so we are back to Brad again)
This time around, the colorful cast of characters includes 2 Ashleys, Shawntel the funeral director/licensed embalmer, Chantal the divorcee,  Michelle the single mom who intimidates other women, Raichel the manscaper with an erroneous I in her name, a Carrie Bradshaw-wannabe, a Bella Swannabe from central casting that is really too absurd for words, and Emily the pretty widow who I predict makes it to the final rose ceremony.
After Brad swears he's a better man and is ready to apologize to the women he rejected on the last go-round, Chris makes him prove it. Big surprise – Jenny and Deanna are there! Oh gawsh, really? Yeah Brad, come on, get it together. You should have seen this one coming.
Despite failing to give out a final rose, Brad was still subjected to the obligatory post-season "After the Final Rose" show, where he squirmed awkwardly and grasped for explanations. Since Jenny and Deanna have apparently moved on (to Botox and spray tans, respectively), I would have passed on this belated rehashing  of events that no one cares about, and used the extra half hour to learn more about the Brooklyn vampires who hang out with models that casually reference them on reality shows.
Once the girls have made it clear that they expect Brad to die alone, they leave him to begin his useless quest for true love. Since it was written into his contract that 'he's just not that into you' wouldn't cut it this time around, he needs to grovel and beg for forgiveness instead of pointing out Deanna's pot-like behavior in calling his season black. After all, her two-month long, post-'Bachelorette' relationship didn't exactly have a fairy tale ending either. But at least she picked someone. That's all America wants, dude. Oh and not changing your mind before the show airs. Don't do that either.
Ready? Okay. Here comes the first limo… full of girls who can't hide their disappointment at the sight of Mr. Womack. They probably watched Ali's season and went into the game hoping for a Chris L and instead, came out of the limo to find this basket case. Collective groan, and then the show must go on.
The heavily promoted slap across the face seems to break the ice – and gets Brad REALLY excited. The frenetic nervous energy continues as each girl offers a quick summary of her 'Bachelor'-watching career and residual anger at his decision. A few go against the grain with a pinky swear or practice marriage proposal. One girl bares some fangs. There are also ruby slippers, a rockette, a birthday girl, a non-snapper and an overabundance of "I know what you did last season" skepticism.
Inside the house, Brad delivers another version of his "I'm a changed man" diatribe and invites anyone who doesn't believe him to hit the road. Obviously no one goes anywhere. Two words – camera time.
92041 conversations about Brad's commitment-phobia make for a tedious cocktail party until the first impression rose arrives and the girls wise up to the fact that grilling the guy about his issues isn't going to give them the competitive edge.  Onto the traditional (only in this context) displays of individuality that help us determine where each woman falls on the awkwardly embarrassing to totally bonkers spectrum. The man-scaper waxes Brad's arm and talks about batwings and undercarriage. Jackie the artist repeats the classic mistake of singing an original song for "The Bachelor." Alli talks about her history of being broken up with for being too bootylicious and asks if Brad is, to paraphrase, 'ready for this jelly?'
We get to see Brad spending QT with Emily, the widow/coal miner's daughter. Underscored by sweet southern belle-worthy music, it's just too charming for words. Naturally, the show's artful editors bring out the devil next. Dramatic musical shift to ominous, discordant rhythms as Brad sits down with Madison and her fangs. He's perplexed. On the one hand, he's digging her crazy sexy cool vibe, but on the other hand, she's got FANGS. On the one hand, he calls her out for being evasive and full of crap, but on the other hand, he calls her fangs really, really hot. 
The super-giggly Ashley gets the first impression rose and then Chris ends the party so Brad can give out the other 19 roses… after one more "I'm a changed man" speech, of course. All the crazies get to stay! Goodbyes are said, some drunk tears are shed, and Brad toasts to the 20 women who can save him going down in history as the Worst Bachelor Ever…. Again.
PS: After 21 seasons, it looks like Seal finally caved and gave ABC the rights to "Kiss from a Rose" putting the song in the company as similarly saccharine themes like "On the Wings of Love" and "Can You Feel the Love Tonight." Which is your favorite?
And more importantly, who is your first instinct pick for Brad's wife? Will he choke again? How many episodes do you give Vampire girl? There's no chance she'll make it to the hometown date and bring Brad into the Brooklyn underworld, right?!?