'The Bachelor' Recap: Ben Picks His Final Two In Switzerland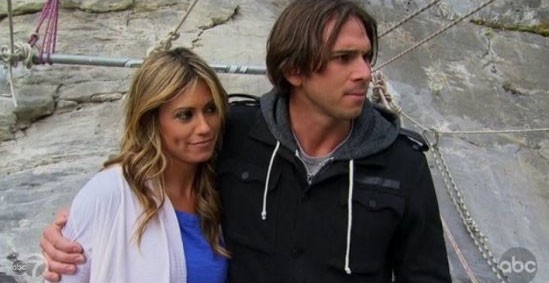 Ben and the three girls, Courtney, Nicki and Lindzi head to Switzerland where Ben will pick his top two ladies and possible wife on this week's episode. Although he still has his reservations about Courtney, he is seemingly addicted to her sexiness but has admitted that he could possibly be in love with Lindzi.
The group lands in Interlaken, Switzerland and Ben first meets up with Nicki to spend the day with her among the Alps. The couple takes a helicopter ride over the city where the view is absolutely stunning. Ben loves the confidence that Nicki exudes and it is hard not to be consumed with her warm smile. The two get out of the helicopter for a little picnic on top of a mountain- no big deal, right ladies? Nicki confesses to Ben that she fell even more in love with him when she saw him around her family. Ben asks Nicki how she would integrate into his life in San Francisco and she come back with the, "how many kids do you want?" question. Ben wants four kids and Nicki wants two- so three it is! All this baby talk is making their hormones flare up as he hands her the key to the fantasy suite and she says yes. Cut to the bubble bath and end scene…
Lindzi meets up with Ben next without a jacket in the freezing cold. Get that girl inside! The two are going to be repelling off a ledge- a very steep ledge. What will be waiting at the bottom? The Black Widow Spider, Courtney or a nice little picnic lunch complete with a bottle of wine? Nope, it was a hot tub with a wine and cheese platter. The two get dressed up for a nice dinner inside a romantic room as Ben sports a bowtie. Lindzi confesses that she is usually guarded but has opened up to Ben and he is very happy that she has finally come around and gives her the key to the fantasy suite as well.
Adorned in matching pea coats, Courtney meets up with Ben to board a train to the village of Wengen for a quaint little picnic. The two are very dorky with each other and definitely complement each other's personalities but we still can't get past her cattiness towards the other girls. Ben is also concerned and voices his opinion to her directly. Aww, poor Courtney- but you put that black cloud over your head yourself. Will she get a key to the fantasy suite since he has already been there done that. The two talk about Courtney's trust issues over a bottle of wine in a wine cellar and he tells her that he is falling in love with her- that's a first out of the three girls. Key to the fantasy suite- check!
We get a little sneak peek into the new season of The Bachelorette as Emily Maynard embarks on the journey to find love. Former Bachelorettes Ali and Ashley take her out in Los Angeles for a little shopping and a movie.
Uh-oh, guess who shows up at Ben's door? Kacie B. makes a shocker appearance and asks why he dumped her. Ben says that he felt they were worlds apart and didn't think he could give her what her family wanted for her. It's a bit uncomfortable as we watch Kacie B. get her heart broken for a second time on TV. Poor girl. She does come back for retaliation as she tells Ben that he will get his heart broken if he picks Courtney. Ouch!
After a quick man chat with Chris Harrison Ben heads into the rose ceremony feeling a little apprehensive about Courtney. The first rose of the night goes to Lindzi as the other girls watch on with nervous smiles. And the final rose is handed out to Courtney as Nicki's heart breaks before our eyes. That man is destined to get his heart broken keeping Courtney around. Find out who Ben proposes to next week- will it be Lindzi or Courtney?