'The Bachelor' Jake And Fiancée Vienna Split, Call For Privacy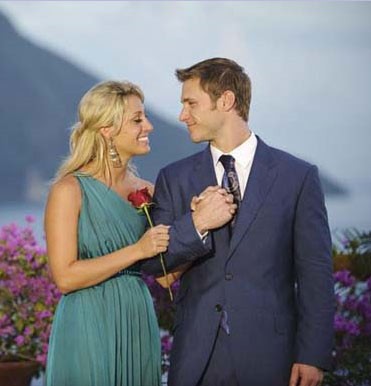 For some, love lasts a lifetime and for others… well four months.  "The Bachelor" Jake Pavelka and fiancée Vienna Girardi have apparently called it quits according to reports by UsMagazine.com.  The spit comes as a surprise to many, as they have made appearances on "The Ellen DeGeneres Show" and Vienna was seen often supporting and rooting Jake during his recent stint on "Dancing with the Stars."

Maybe Eliza Dushku had something there in her recent Twitter spat and apology with Vienna accusing her of glancing at her boyfriend Rick Fox. To recall Dushku posted a picture of Girardi glancing at Fox with the statement, "Vienna, I will CUT you. Keep yo' eyes on yo' own meat!"
Dushku later apologized via Twitter: "I heart the Pavelka's. I will fresh cut some flowers for Vienna in the a.m. and apologize if I hurt feelings!"
V