'The Bachelor' Introductions Full of Drunken Drama and Broken Hearts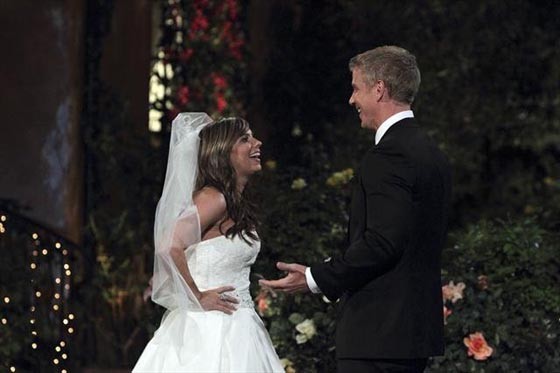 Sean Lowe aka 'the Ken doll' is getting his second chance at love on The Bachelor after he had his heart broken by Emily Maynard on The Bachelorette. This season looks like it is going to be full of catty chicks, drunken drama and some silly moments like starting off the show zooming in on Sean's buff body and his workout moves. As the first episode begins (after the half-naked scenes of Sean, that is) we are reminded how this sweet and shy man got his heart ripped out by Emily, who ultimately chose Ari over him. Clearly he is better off without Emily (as were Ari and Jeff) so we can confidently say, goodbye heartbreak and hello new ladies! Just as all the new bachelors say to the audience, they are ready to find their wife and make a solid commitment to the true love of their life, who they will find on the show. Most of the time we don't really believe them but with Sean, we think this might just be his moment.
So, let's meet these twenty five women! But first, remember Ari? Yup, apparently he and Sean are buddies now and he is here to offer his best dating advice. Isn't he dating Ben's ex, Courtney now? There was no mention of that…but there was some cheesy role playing moments between the two of them when Sean pretended to break up with Ari, and then took some kissing pointers from him. Awkward! How about them ladies?
In comes Chris Harrison, who reminds us that Sean is "sincerely ready to find his wife" and we can't wait to meet these potential wives. First up is Desiree, or Des, the bridal stylist in Beverly Hills. As much as it is a cliché, she just may be the one for Sean and she probably already has the wedding dress. Tierra from Denver seems like she may just be a bit too sensitive, overly excited and a stage five clinger. Robyn from Houston seems like she may introduce herself to Sean via Post-it. Diana from Salt Lake City has two children, so if Sean picks her, he may get a big family right away. Sarah from Los Angeles has a challenge in life already, she is living with one arm and we know Sean will definitely not have any issues with that. Ashley from Michigan has no idea why she is still single but by the way she wants to reenact Fifty Shades of Grey with Sean right away, we can probably guess why…Lesley from DC seems like a classy, smart southern belle who will campaign for Sean's heart. Kristy, the model already seems like she will eat the other girls alive. AshLee (we are not a fan of the spelling), the professional organizer seems like she already has plenty of baggage but is ready to leave the past behind and move forward.