'The Bachelor' Introductions Full of Drunken Drama and Broken Hearts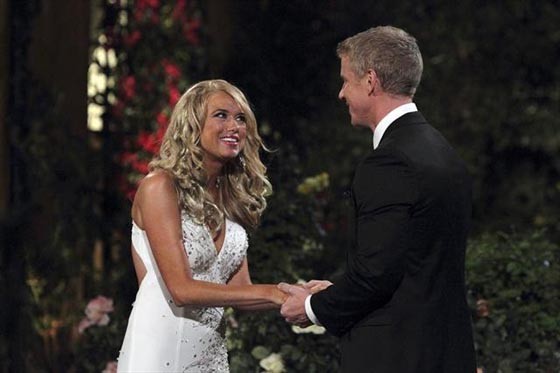 Sean is waiting nervously as the first batch of ladies pull up in the limo. AshLee gets to meet the Bachelor first, and then Jackie from Florida steps up and plants a big kiss on Sean's cheek. Selma, the Ashley Greene lookalike immediately wipes that kiss away. Leslie, the LA poker dealer seems a bit boring and Daniella tries to mix things up with a handshakes but it is an epic fail. The next limo pulls up and Kelly 'too tan' from Tennessee sings Sean a little diddy and embarrasses us all. Katie, the yoga instructor from North Carolina may have a shot is she changes up her hairdo. Ashley stays true to her word and pulls a tie out of her dress and asks him to teach her how to use it later. Weirdo! Taryn from Oregon is so nervous she forgets to tell him her name. Catherine from Washington is adorable and already wins us over, while Robyn tried to do a back handspring and falls on her face. Lacey from California brings Sean a lace heart and we are a little distracted by Paige's occupation- a Jumbotron operator…really? She confesses to Sean that she was on The Bachelor Pad 3 which makes us believe that she is no stranger to drama. Tierra tells Sean that she has an open heart tattoo on her finger and hopes that he will be the one to complete it and he goes inside to grab the first impression rose. Snaps to the stage five clinger!
Amanda the fit model makes an awkward first impression and Sean doesn't seem too impressed. Keriann tells Sean that she drove over two thousand miles to meet him and Des wants to make a wish in the fountain with Sean by tossing in a few pennies.
Sarah steps out of the limo and Sean seems blown away by her beauty while Brooke, the community organizer is overly affectionate with Sean. Diana doesn't impress us as much with her first impression as Lesley from DC does, asking him to play some football, or just stare at his ass. We are still scratching our heads wondering how Kristy and Ashley are models?? Lauren from Rhode Island wants to feed Sean a big Italian dinner and lets him know that if he breaks her heart, her dad will break his leg. Not a very good start, Lauren. The crazy girl award for this season goes to Lindsay from Missouri, who shows up in a wedding dress and kisses Sean on the lips. We would have expected that from Des, but definitely nobody else. We are pretty sure she was wasted. Sean gets a little bonus as number twenty six steps out of her own limo- Kacie from Ben's season! Ben seems happy to see her but the other girls are not happy at all. As much as we like her we have a feeling that this is a plea to be the next Bachelorette.