'The Bachelor' Finale: Is Juan Pablo The Biggest Jerk In Bachelor History?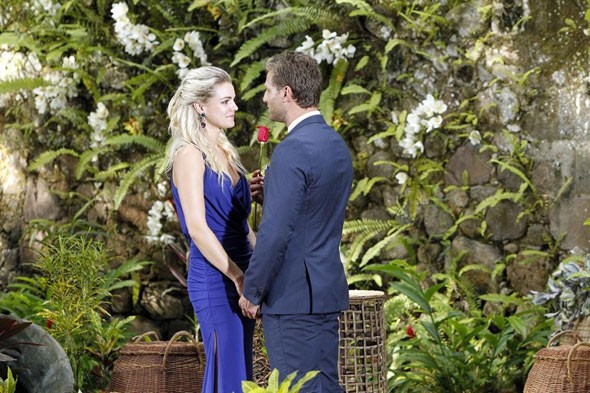 Tonight Juan Pablo will either be walking out of Saint Lucia empty handed or with a future bride as we embark on the final episode of The Bachelor. JP's family is also here to witness his last few days with Clare and Nikki. Clare will finally get her chance to meet his family as Nikki already met then at Camila's dance recital a few weeks back. As Juan Pablo's family asks Clare if she speaks Spanish, she confesses that her mother is Mexican but she is the only one in her family who doesn't speak it…that's a bit odd.
Also odd was when she first sees Juan Pablo and Camila together and all she can say was, "he's so hot!" When Clare sits down to talk to his mother, she makes us cringe a little when she talks about her fight with Juan Pablo and how he made her cry. But his father on the other hand comes right out and tells Clare that he loves her. As much as we don't like Clare, we also aren't crazy over Nikki (or Juan Pablo for that matter) so at this point we won't be hurt with any decision he makes in Saint Lucia.
It's finally Nikki's turn to re-meet most of Juan Pablo's family and meet a few new faces for the first time as well. When Nikki sits down with Juan Pablo's father, it seems more like an interview for Miss Missouri than a genuine conversation with her future father-in-law. But Juan Pablo's mother has big dreams of Nikki, Camila and JP sitting at home all day together watching TV, living the simple life. Yet she does admit that her son is not easy. His cousin also has a few negative words about JP but we're not sure if he is just trying to get her to say something wrong. But she doesn't and actually confesses to him that she is in love. We are still at a loss for whom we think he is going to pick.
On the last date Juan Pablo has with Clare, the two take a romantic helicopter ride that ends badly when JP whispers something offensive in her ear. Apparently she feels that the two of them don't know each other enough. Torn by her feelings, we wonder if Clare will leave Juan Pablo hanging or will pull his aside and talk to him about what happened. Right off the bat, Clare gives him the cold shoulder when he walks in and asks him if she is more than just a hookup to him. Bad move JP, bad move. The conversation between Juan Pablo and Clare after that point is a bit confusing but we think Clare is satisfied with his explanation. But what did he even explain?
Nikki gets her last chance for a date before the final rose and the two board a yacht to celebrate. But when she tells him that he seems a bit guarded, he says that when he feels it, he will open up. So what does that mean? Goodness that guy is confusing! Nikki and Juan Pablo just sit in silence for the most of their date with her thinking and him mumbling. We are still clueless as to who he will choose. Are these two really in love with him or are they just competing against each other? Does he even love either of them? So many questions!
Juan Pablo has a ring ready, which means that he will be asking one of these lovely ladies to be his wife, right? As much as they are ready for this moment to be over with, we are ready for this season to be over with. Typically the girl to arrive on the island first is the girl to get dumped and as Clare arrives before Nikki we are wondering is this season will be different. Nope, it's Clare that will be going home alone just as we predicted. But she doesn't go down without a fight, she belittles him and tells him that he should have dumped her before they got in too deep and she would never want her children to have a father like him. And what does JP say when she leaves on tears?
"Whoa, I'm glad I didn't pick her!" We just hope ABD doesn't make Clare the Bachelorette. We're not even happy to celebrate the 'love' between Juan Pablo and Clare as we were in the past seasons. After what he said about Clare, we're not going to give JP our well wishes at all. But it takes a turn as Juan Pablo has the sparkling Neil Lane in his pocket but chooses not to use it. He gives Nikki the final rose and a wink and tells her that he likes her a lot. Really? Are you serious? And Nikki is going to stand for that? Now all we want to know is if the two are still together and how the next Bachelorette will be.
We got our questions answered on The Final Rose and after Clare's pity party. Nikki comes out and says that the two are still together but when Chris Harrison asks if Juan Pablo has told her that he loves her, she awkwardly confesses that he hasn't. Ouch! How oblivious is this girl? When Chris confronts JP, he gets very defensive and says he feels great. He is the biggest jerk in Bachelor history! Enough said. Chris Harrison gets that babbling idiot and his dumb girlfriend off the stage and we find out that Andi will be the next Bachelorette. Good for her!