'The Bachelor' Finale: Does Courtney Or Lindzi Get The Final Rose? (Pics)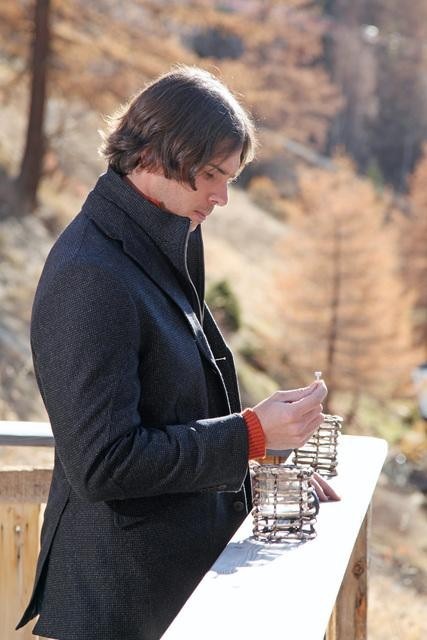 Ben, Courtney and Lindzi are in Switzerland where he will choose who he is going to propose to and whose heart he will break. Ben meets his family in the hotel room to discuss the two remaining contestants and what they think about them. Ben's mom and sister have never met Courtney and Lindzi- let's see what they think about his competing loves.
Lindzi meets Ben's mom and sister over dinner and she is a little awkward as she keeps dropping silverware and clanking her dishes. Her voice is shaking as she tells Ben's mother what she loves about Ben. Julia, Ben's sister is blunter with Lindzi and straight up asks her what she thinks of Courtney. Julia thinks that she may be a red flag and we couldn't agree more.
Next up, Courtney meets the family. She comes right out saying that even though she gave every girl in the house a chance; they didn't really get along with her. Courtney can tell that Ben's mom and sister are judging her already because of her "model" status. Again she comes out with the lies as she is trying to explain to Julia why she had a guard up with the girls. Surprise, surprise Julia gives Ben her Courtney approval.
Ben picks up Lindzi for her date in a horse and carriage for a romantic ride through the streets of Zermatt. Next, the two take the gondola (wine included) to the Matterhorn to ski the Alps for a lovely day together. The two are adorable as they ski piggy back down then mountain together but we still feel they have a very awkward chemistry. Lindzi spills her guts and feelings all over that couch by the fireplace and tells Ben that she would love to be his fiancé and he nods and occasionally says, "Thanks!" Sorry girl, but we are not feeling it.
As he approaches Courtney for their final date before he proposes to one of them, we can't help but wonder if she will finally give him an open mouth kiss if they were to get engaged. As a helicopter approaches, the two climb aboard and fly around Switzerland hand in hand. How romantic! The two have a wiener roast on the top of the snowy mountain and make a few snow angels along the way. Courtney brings Ben back to her room for some wine, fondue and gifts. She made him a scrapbook with pictures of them throughout their journey (thanks you ABC set photographer) and wrote him a sincere (?) love letter. Cue the attempt at acting and fake tears. Ben picks out the perfect Neil Lane ring and the girls put on their best Riding Hood capes to meet him on the mountain top and either be the happiest girl on Earth or the most devastated. The season isn't as exciting though because we feel that we already know what the outcome will be. Let's just get it over with already, Ben.
When Lindzi shows up first, we know that it's not a good sign- for her. As far as we remember, the first one to show up is usually the one to go home crying. Poor Lindzi, we can feel her heart breaking even though he tells her he is in love with her, but then there's the giant BUT…he found everlasting love with someone else- Courtney. You had to end with the, "if things don't work out, call me" line, Lindzi? As her helicopter ascends, Courtney is clear for landing right into Ben's naïve heart. Blah blah blah blah, "Will you marry me, Courtney?" blah blah, "Yes." Gag me with a spoon. Winning! End Scene. Next season, please.
Click Next for more pictures.