'The Bachelor' Brings Its Drama To The Great Outdoors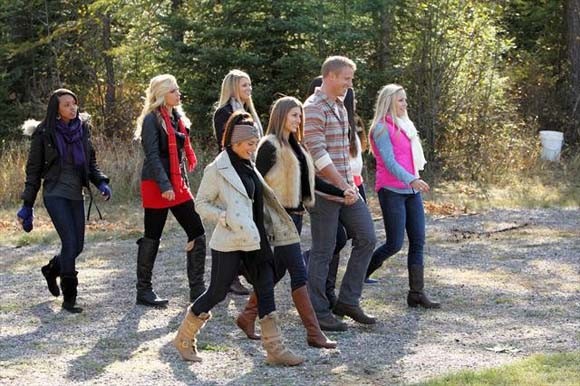 This week, Sean takes the remaining eleven girls to Montana where there will be a one-on-one date, a group date and the dreaded 'two girls, one Bachelor and one rose' date. The solo date goes to Lindsay and the two take a romantic helicopter ride over Glacier National Park and then go to a Sarah Darling concert. He is definitely smitten with her and she takes home the first rose in Montana. Next up on the group date are Sarah, Selma, Desiree, Robyn, Daniella, Lesley, AshLee and Catherine where the girls will split into two teams and compete in a wilderness relay race. The red team consists of Selma, Desiree, Sarah and Robyn and the blue team is Daniella, Lesley, AshLee and Catherine. The girls start off with a canoe race, then they have to buck hay, saw a log, milk a goat and then drink the goat's milk. Most of these ladies have probably never even touched a goat- this could get good!
The red team wins the event and although they think they get to spend more time with Sean, he invites the other team to come along as well.  AshLee makes a bold move and admits that she is falling in love with him and Daniella takes a different approach to get his attention (and the rose) and starts to cry. She tells Sean that it is hard to see him with the other girls but wipes her tears away and goes in for a big, passionate kiss. Her lips must have been worthy because she gets that second rose. Of course Tierra finds a way into the date and steals Sean away briefly to make sure they are on the same page.