'The Artist' & 'Hugo' Top Oscars With Five Wins Each (Full List Of Academy Award Winners)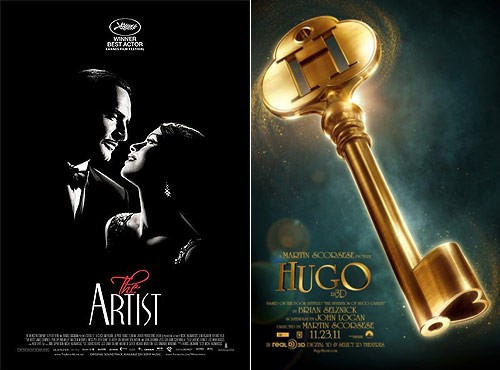 Tom Hanks, who ended last year's Academy Awards by announcing Best Picture winner The King's Speech, started things off at this year's Oscars by handing out the evening's first two awards, for Best Cinematography and Best Art Direction. Both awards went to Martin Scorsese's 3D family film Hugo, quickly setting the tone for a possible upset in the coveted Best Picture category at the end of the ceremony.

But that wasn't to be, as frontrunner The Artist took most of the night's major awards, including Best Picture, Actor (Jean Dujardin) and Director (Michel Hazanavicius).

Both films finished with five awards each.

There were almost no surprises throughout the night - save for Woody Allen's win for Best Original Screenplay for his film Midnight in Paris - and nearly all of the favorites took Oscar gold.

The show began with a short film of host Billy Crystal poking fun at some of the year's biggest films in scenes from The Descendants, The Help, Moneyball, The Adventures of Tintin, Bridesmaids, and Mission: Impossible - Ghost Protocol before going into his opening monologue.

"The movies have always been there for us... so tonight, enjoy yourself because nothing can take the sting out of the world's economic problems like watching millionaires present each other with golden statues," he joked.

Octavia Spencer won the night's first big award - Best Supporting Actress - for her performance in The Help.

Christopher Plummer became the oldest actor to win an Oscar at the age of 82 for his supporting role in Beginners. The first ever Oscars took place just two years before he was born - which was also the last time a silent film won Best picture.

One of the night's funnier moments included comedians Will Ferrell and Zach Galifianakis presenting the award for Best Original Song. The two came up from the orchestra pit dressed in matching white tuxes and clashing cymbals together, stopping for a moment in front of Brad Pitt and Angelina Jolie before taking the stage to present the award.

The Oscar went to "Man Or Muppet" from The Muppets, which only faced competition from Rio's "Real In Rio" (which never had a chance).

Meryl Streep took home Best Actress honors for her role in The Iron Lady, her third Oscar in 17 nominations and her first since 1982's Sophie's Choice (she won for Kramer vs. Kramer in 1980).

This year's Honorary Oscars went to James Earl Jones, Oprah Winfrey and makeup artist Dick Smith; and Milla Jovovich presented highlights from this year's Sci-Tech awards, which she hosted on Saturday, February 11 at the Beverly Wilshire hotel in Beverly Hills, Calif.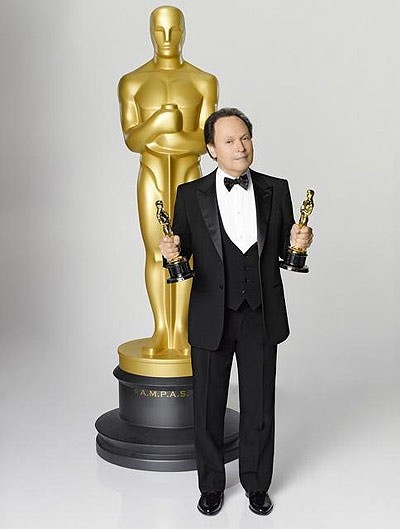 The full list of winners for the 84th Academy Awards (winners in bold):

Best Picture
The Artist
The Descendants
Extremely Loud & Incredibly Close
The Help
Hugo
Midnight in Paris
Moneyball
The Tree of Life
War Horse

Best Actor
Demián Bichir - A Better Life
George Clooney - The Descendants
Jean Dujardin - The Artist
Gary Oldman - Tinker Tailor Soldier Spy
Brad Pitt - Moneyball

Best Supporting Actor
Kenneth Branagh - My Week with Marilyn
Jonah Hill - Moneyball
Nick Nolte - Warrior
Christopher Plummer - Beginners
Max von Sydow - Extremely Loud & Incredibly Close

Best Actress
Glenn Close - Albert Nobbs
Viola Davis - The Help
Rooney Mara - The Girl with the Dragon Tattoo
Meryl Streep - The Iron Lady
Michelle Williams - My Week with Marilyn

Best Supporting Actress
Bérénice Bejo - The Artist
Jessica Chastain - The Help
Melissa McCarthy - Bridesmaids
Janet McTeer - Albert Nobbs
Octavia Spencer - The Help

Best Animated Feature Film
A Cat in Paris
Chico & Rita
Kung Fu Panda 2
Puss in Boots
Rango

Best Art Direction
The Artist
Harry Potter and the Deathly Hallows Part 2
Hugo
Midnight in Paris
War Horse

Best Cinematography
The Artist
The Girl with the Dragon Tattoo
Hugo
The Tree of Life
War Horse

Best Costume Design
Anonymous
The Artist
Hugo
Jane Eyre
W.E.

Best Director
The Artist - Michel Hazanavicius
The Descendants - Alexander Payne
Hugo - Martin Scorsese
Midnight in Paris - Woody Allen
The Tree of Life - Terrence Malick

Best Documentary Feature
Hell and Back Again
If a Tree Falls: A Story of the Earth
Liberation Front
Paradise Lost 3: Purgatory
Pina
Undefeated

Best Documentary Short Subject
The Barber of Birmingham: Foot Soldier of the Civil Rights Movement
God Is the Bigger Elvis
Incident in New Baghdad
Saving Face
The Tsunami and the Cherry Blossom

Best Film Editing
The Artist
The Descendants
The Girl with the Dragon Tattoo
Hugo
Moneyball

Best Foreign Language Film
Bullhead - Belgium
Footnote - Israel
In Darkness - Poland
Monsieur Lazhar - Canada
A Separation - Iran

Best Makeup
Albert Nobbs
Harry Potter and the Deathly Hallows Part 2
The Iron Lady

Best Original Score
The Adventures of Tintin - John Williams
The Artist - Ludovic Bource
Hugo - Howard Shore
Tinker Tailor Soldier Spy - Alberto Iglesias
War Horse - John Williams

Best Original Song
Man or Muppet - The Muppets
Real in Rio - Rio

Best Short Film (Animated)
Dimanche/Sunday
The Fantastic Flying Books of Mr. Morris Lessmore
La Luna
A Morning Stroll
Wild Life

Best Short Film (Live Action)
Pentecost
Raju
The Shore
Time Freak
Tuba Atlantic

Best Sound Editing
Drive
The Girl with the Dragon Tattoo
Hugo
Transformers: Dark of the Moon
War Horse

Best Sound Mixing
The Girl with the Dragon Tattoo
Hugo
Moneyball
Transformers: Dark of the Moon
War Horse

Best Visual Effects
Harry Potter and the Deathly Hallows Part 2
Hugo
Real Steel
Rise of the Planet of the Apes
Transformers: Dark of the Moon

Best Adapted Screenplay
The Descendants
Hugo
The Ides of March
Moneyball
Tinker Tailor Soldier Spy

Best Original Screenplay
The Artist
Bridesmaids
Margin Call
Midnight in Paris
A Separation