The Art of Anger: Curtis Armstrong Voices The Master of Revenge in 'Dan Vs.'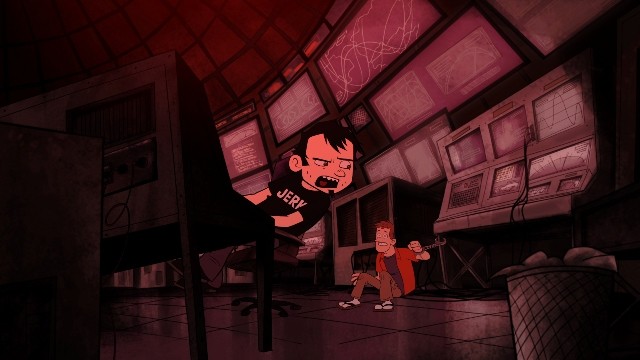 It's a good thing that all Curtis is required to do is voice the rampaging little man, because Dan's campaigns have included kidnapping, attempted bodily harm, and a truly baffling amount of property damage. In 'Dan vs. Anger Management,' Dan was willing to launch a nuclear missile in order to exterminate a squirrel that he disliked. After three seasons, Curtis isn't fazed by any of Dan's preposterous plans.
"I expect anything and everything within the limits of what we can show on a children's animated show. You're still not going to see blood and guts or anything. Somehow, no one ever gets hurt on this show, which is kind of lucky for Dan," he said with a laugh. "The fact is, in any kind of normal world, Dan would have been in prison long ago and would never again see the light of day, which is as it should be. He's a sociopath, basically. I guess no one worries about the property damage."
The only thing safe from Dan's wrath is Mr. Mumbles, the cat he adopted from an animal shelter who has become his companion and occasional partner in crime. What does Curtis think makes Mr. Mumbles immune from Dan's ire?
"Mr. Mumbles is the only thing that makes Dan human. Literally," he said. "Mr. Mumbles is a good humanizing element. Even when we've got episodes where he's got potential love interests, that always blows over. Mr. Mumbles is pure good forever. And Dan will not hear a word against her." He added that "I love the fact that Mr. Mumbles turns out to be a girl cat."
As far as future episodes of Dan Vs. that are on his wish list, "There's one that springs to mind because it's one that they were trying to do and it did not work out," Curtis continued. "It's one that I still deeply pray that we are able to do, and that's 'Dan vs. William Shatner'. That for me would be perfect. I would love to do an episode with William Shatner." (Show co-creator Chris Pearson revealed at this year's San Diego Comic-Con that Dan's skyward scream at the beginning of each episode is inspired by Shatner in Star Trek II: The Wrath of Khan.)
Even as the show has already tackled commonly hated things like traffic and telemarketers, Curtis believes there's no shortage of things for Dan - and by extension, the audience - to get worked up about. "You'll find things that Dan is angry about that you never even knew you were angry about until Dan verbalizes it," he said. "Once Dan breaks down why something should be destroyed, you find yourself going, 'Yeah.'"
In addition to his voice work on Dan Vs. and American Dad!, Curtis is one-half of the team behind the upcoming TBS reality series King of the Nerds, which he's producing and hosting with Robert Carradine. Inspired by their roles in Revenge of the Nerds and billed as "the ultimate nerd-off," the show puts eleven self-proclaimed "nerds" through a series of challenges until "one nerd stands alone as the ultimate champion of all things nerdy." You can find out more about King of the Nerds at the show's official website.
Even with his busy schedule, Curtis has a soft spot for his role as the angriest man alive. "This has really been a lovely show for me to do," Curtis said. "Paget and Dave, they're so marvelous on the show. It's been a real treat for me." And it's been a real treat for fans to have him perfectly voice our many frustrations. Hopefully, there will be many more quests for revenge in his future.
Dan Vs. continues Season 3 today at 4 PM ET/1 PM PT. You can check out a clip from today's episode, "Dan vs. The Mummy," below. King of the Nerds comes to TBS in January 2013.
For more from Brittany Frederick, visit Digital Airwaves and follow me on Twitter (@tvbrittanyf).
(c)2012 Brittany Frederick/Digital Airwaves. Appears at Starpulse with permission. All rights reserved. No reproduction permitted.