'The Ant Bully' Videogame Ships Today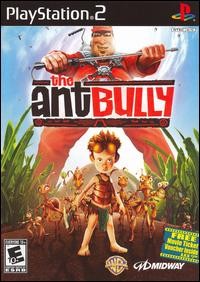 Midway Games Inc., a leading interactive entertainment industry publisher and developer, today announced that it has shipped
The Ant Bully videogame
, licensed by Warner Bros. Interactive Entertainment, for the PlayStation 2 computer entertainment system, Nintendo GameCube, Game Boy Advance and personal computers. A Nintendo Wii version of
The Ant Bully videogame
is scheduled to be released in November.
Backed by a multi-million dollar marketing campaign complementing the
feature film
release,
The Ant Bully videogame
follows the general storyline of the film, in which a young boy named Lucas is magically shrunk down to ant size and made to live like an ant in the colony as he battles, explores and forges new friendships in his new ant world.
"Midway´s relationship with Warner Bros. Interactive Entertainment on
The Ant Bully
is an important part of our company´s expansion into the younger gaming market," said Steve Allison, chief marketing officer, Midway. "We´ve timed our marketing campaign and launch for the game closely with that of the film, allowing players to help an ant–sized Lucas on his quest to help save the ant colony as soon as the movie premieres."
About The Ant Bully, expected in theaters July 28
From Academy Award nominated filmmaker John A. Davis (
Jimmy Neutron: Boy Genius
) and producers
Tom Hanks
and Gary Goetzman (
The Polar Express
),
The Ant Bully
is the witty and heartwarming story of a 10-year-old boy tormented by a neighborhood bully, who takes his frustrations out on an innocent ant hill until the day the ants fight back. Through a magic potion they shrink him down to size and make him live like an ant to learn their ways – a remarkable journey into a strange new world that teaches him about friendship and teamwork and gives him the courage to stand up for himself.
Warner Bros. Pictures presents, in association with Legendary Pictures, a Playtone Production, in association with DNA Productions:
Julia Roberts
,
Nicolas Cage
,
Meryl Streep
,
Paul Giamatti
,
Regina King
,
Bruce Campbell
and
Lily Tomlin
star in
The Ant Bully
, written for the screen and directed by John A. Davis, based on the book by John Nickle. Produced by Tom Hanks, Gary Goetzman and John A. Davis, the film is executive produced by Keith Alcorn, Diana Choi Sachs, Steven Shareshian, Thomas Tull and William Fay, with Alex Johns serving as co-executive producer. Music is by John Debney.