The American Music Awards: A Seat Filler's Report

Having friends in high places is a definite perk to living and working in this crazy town they call Hollywood. Which is how I found myself on a Sunday afternoon with about 200 other fans in my trendiest Hollywood club attire, waiting to be bused to the Nokia Theater in downtown Los Angeles to serve as a seat filler at the 2008 American Music Awards.
Prior to this the largest awards show I had attended was my sister's high school graduation, so I had no idea what to expect. This being Hollywood however, I figured I'd be hanging out with a bunch of
Pamela Anderson
wannabes and hangers on hoping to slip their digits to any celebrity that looked in their direction. What I found, however, is that seat fillers are quite the motley crew. Working in the business I forget what it's like to be around people who are starstruck and it was refreshing to see how excited people were. There was some kind of school or church group that made the day into an outing which I thought was a great idea and something totally different from what other kids around the country get to experience.
After waiting in line for about 2 hours we made it over to the theater into the seat filler holding area, which was at the back of the auditorium, much to my surprise. Honestly, I could have just sat in the holding area for the entire show and still would have considered the day a success. I had a great view of the stage and a comfortable seat. Getting into a seat in the coveted first fifteen rows was an exercise in both luck and aggression. When an empty seat was pointed out the slightest hesitation resulted in a loss of the seat. My apologies to the sixteen year old girl I taught this lesson to by taking the last remaining seat about ten rows from the stage. Oops.
I was one of the lucky few to secure a seat of someone who either decided not to show up or got really lost on their way back from the bathroom.
Christina Aguilera
opened the show and honestly, her performance was as rough as she's been looking lately. Her number started off promising; she opened her act by singing the first verse of her hit "Beautiful", acapella. As soon as she had to incorporate dancing into the routine however, any pretense of singing was thrown out the window. At one point she even forgot the words to "Genie in a Bottle," something I'm sure the at home audience didn't catch on to thanks to the backing track. Thus, the beauty of being a seat filler: you get to see what really goes on.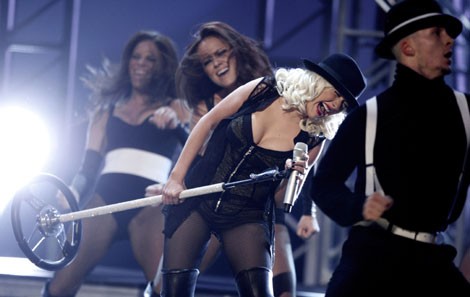 Christina Aguilera - American Music Awards 2008
Fortunately, after Christina's performance the show only improved. From my seat I had a great view of
Chris Brown
,
Taylor Swift
,
Jamie Foxx
,
Daughtry
,
Wu-Tang Clan
, and
David Archuleta
. Performance highlights throughout the rest of the show included:
Leona Lewis
, who looked as good as she sounded live,
Taylor Swift
, who clearly was sending a message to Joe Jonas by her choice of song and the anger she expressed during some of the words,
Natasha Bedingfield
who absolutely rocked when she sang "Pocketful of Sunshine," and, cocky though he may be,
Kanye West
who sang his new song, "Heartless."
The best performance of the night, by far, was given by
Annie Lennox
. She was honored by the show with an award of merit for her accomplishments in music as well as all of the humanitarian work she has done for the AIDS cause. Whilst the younger performers of the night, (paging,
Rihanna
!) played up their performances with flashing lights, sparkly costumes, and special effects, Annie Lennox did what she does best, sing. It was just her, a spotlight, and a piano. I hope that her performance humbled the other recepients of awards as much as it did me, a simple audience member with no musical aspirations. She truly reminded everyone in the theater what a real musician looks and sounds like.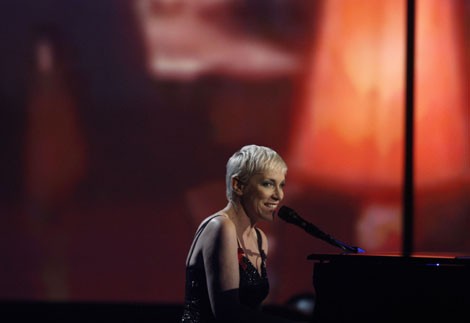 Annie Lennox - American Music Awards 2008
At the other end of the spectrum, unfortunately ,was the Disney phenomenon known as the
Jonas Brothers
. I understand every thirteen year old girl reading this will wish a plague on all my houses for the statement I'm about to make but this is my experience as a seat filler so here we go: The Jonas brothers, when not helped along with studio editing, cannot sing. This is the second time I have seen them live and I had hopes that their mediocrity the first time around was just a fluke but alas, dear reader, it was not. They did a lot of jumping around and general "rock star" behavior but unlike real rock stars, they fell flat on a LOT of notes. My apologies America, but I'm just calling it like I see and hear it.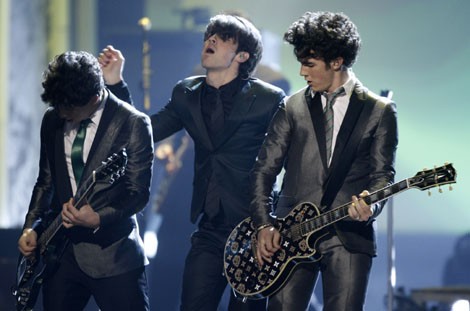 Jonas Brothers - American Music Awards 2008
All in all, the night was a vast success, despite the disappointment from the Jonas brothers. The performances were energetic and entertaining, the acceptance speeches brief, and being up close and personal with so many stars I admire was awesome. The atmosphere was a positive one and the performers seemed to enjoy each other's performances and having a chance to catch up during commercial breaks. I'm already planning my outfit for next year, and crossing my fingers that I'll get seated next to the
New Kids on the Block
!
Special thanks to Jon Unger from ABC for arranging the tickets to the show.
Check out the AMA Awards Photo Gallery
Story by
Marna Palmer
Starpulse contributing writer