'The Amazing Spider-Man:' Andrew Garfield's Pain And Emma Stone's Boobs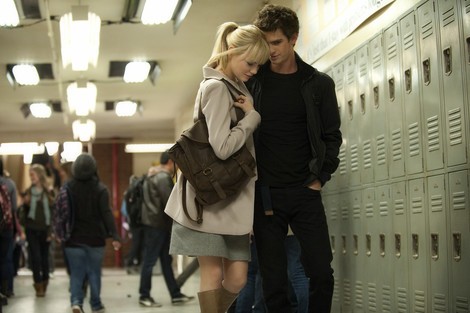 This week The Amazing Spider-Man swings into theaters with a new cast, Andrew Garfield as Peter Parker and Emma Stone as Gwen Stacy. Each actor had a unique take on their character. For Garfield, playing Spider-Man and his alter ego was a lot like his Tony Award nominated performance on stage in Death of a Salesman.
"There's not much difference, weirdly enough," Garfield said. "In terms of how I approached it, my only intention was to honor the character. That goes for Biff Loman as well as Peter Parker/Spider-Man. So my approach was the same, just from my heart and guts. I got very upset and stressed out and wanted to do a good job, as is my way. There were certain things that were challenging about both, of course. The repetition of going through trauma every night on stage is a killer and your body doesn't know it's not real, even if your mind does. So your body is in a lot of pain and your heart is in a lot of pain, but it's worth it. I always think about that theatre experience all my life.  I will hold it very, very close to me."
Gwen Stacy is known to comic book fans as Peter Parker's first love. Movie audiences might not know as much, since the previous Spider-Man movie began with Mary Jane (Kirsten Dunst.) Stone did her research and learned that in the comic books, Gwen once fathered baby Norman Osborns. The movie didn't go there, but they did dress her up like Gwen.
"Well, costumes were done by Kym Barrett who's fantastic," Stone said. "We worked together kind of to make sure that Gwen felt like Gwen, but also made sense in the real world. I'll say I'm a lot less voluptuous than Gwen, unfortunately, so it didn't really go to those heights. But the signature headband and the thigh-highs and the coats and all of that was important to stay present.  The makeup, Ve Neill is incredible and with the hair and makeup we tried to obtain that as well but keep her realistic, and still keep her earthbound. I'm by no means a supermodel or an unobtainable-looking person, so that element of Gwen was a bit different than the comic books in some ways because she was such a beauty queen in the comic books.  I'm a lot more next door than she might be."
The Amazing Spider-Man is now playing.