'The Amazing Race' 23, Season Finale - 'Thanks For Not Helping Me!'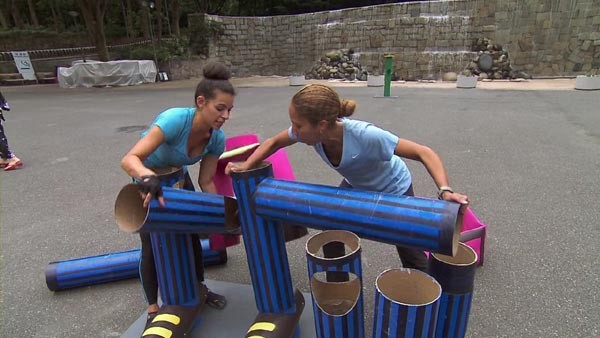 The penultimate Leg begins as teams are told to fly to Tokyo. At the travel agency, Jason & Amy and Travis & Nicole try to make a pact with Tim & Marie that they will work together this Leg to ensure Leo & Jamal get eliminated and they are the final three.
All four teams book tickets that get them into Tokyo via Singapore and Bangkok at 6:20am. But at the Bandung airport, Leo & Jamal manage to find a flight via Hong Kong from Singapore that gets them in at 6:10am. At Singapore, they confirm their seats and are on the first plane into Japan, leaving the other teams wondering where they are.
Leo & Jamal touchdown in Tokyo and must now head to Gotokuji Temple and find the next clue waiting next to the lucky waving cats. The 2nd flight arrives only 5 minutes later.
The three teams get outside the airport where there's only two taxis available. None of the taxi drivers know where the Temple is and neither Jason & Amy nor Nicole & Travis (who have the two taxis) have the address. But Marie does and was willing to share the info with them if someone got her the 3rd taxi. She doesn't take too kindly to the couples ready to speed outta there without them.
The couples decide to hop in their taxis then, but their drivers don't leave until the 3rd taxi (for Tim & Marie) arrives.
Leo & Jamal speak with racist Japanese accents to tell their taxi driver to back up to the Temple. They find the clue and the Detour.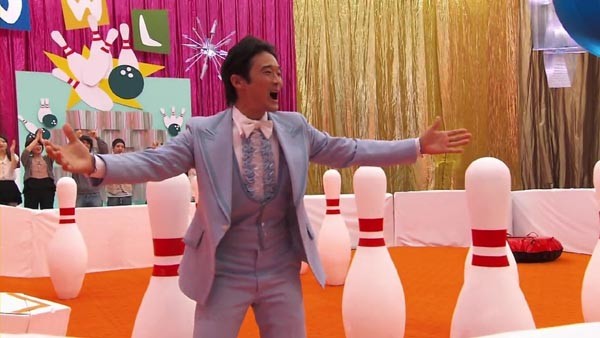 The TAR Editors decide to hold off on describing the Detour choices, but Phil teases it's between becoming a human bowling ball or making an underwater phone call.
The three teams get to the Temple. Jason & Amy and Tim & Marie choose one Detour and Nicole & Travis choose the other, but all three taxis refuse to separate and have no idea where to go.

Leo & Jamal get to Tokyo Media City and Phil finally explains this Detour choice.  In Knock it Down, teams will participate in a wacky Japanese game show version of human bowling. After dressing up, teams will slide down on an inner tube to try and knock down all the bowling pins and score a strike.  Later, Phil describes the other choice, Call It Up where teams put on speedos and submerge themselves into an art installation using a phone booth filled with water and goldfish. They will make a call then run to their partner with the message given by the other end of the call: "Welcome to Tokyo. Wasabi taberu."
The three teams get to Kinuta Park where Call It Up is located. Jason & Amy and Nicole & Travis run to get info on where the Detour location is within the park. They then walk slowly thinking they should not tip off Tim & Marie who stand waiting by the taxis.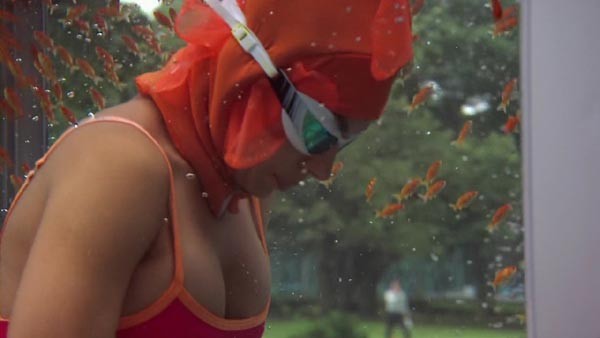 Marie decides they should ask a local where Tokyo Media City is and they decide to go there instead. The couples decide to finally run to the Detour and Amy and Travis strip down and get wet.
Meanwhile, Leo & Jamal take a couple of tries, but they finally knock down all their pins. The game show host happily hands them the next clue pointing them to Shinjuku Central Park. Before leaving, they decide to fold up their clothes to make it seem like they haven't been there yet.
Jason & Amy and Nicole & Travis finish the Detour and head off.
Back at the game show, our game show master asks Tim & Marie about their relationship and they say they're broken up. "Oh, it is American love story!" "No, it's American horror story!"
They take a couple of tries before Marie launches Tim down the slide and into a strike.