2011 was a fantastic year for entertainment. Here are my eleven favorite things from the year that's about to wrap, in chronological order...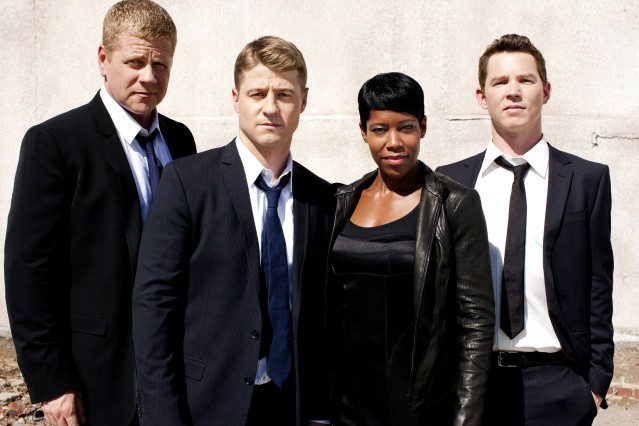 1. Southland, TNT
(Season 3 began January 4)
I have to admit that I didn't keep up with TNT's gritty Los Angeles cop drama as much as I would have liked; it fell victim to sharing Tuesday nights with three other shows on my watch list. Yet when I did find time to catch it, I was no less than impressed every time.
There's been talk about the show's TV-MA content (allegedly the reason that NBC axed it), but the real talking point should be the sterling performances of the ensemble cast. It's anchored by the veteran Michael Cudlitz, who's finally getting the recognition he deserves in the role of jaded beat cop John Cooper. He turns in arresting, often heart-wrenching performances each week. (And also happens to be a pretty hilarious interview.)
Cudlitz is well matched by Benjamin McKenzie, who has definitely left The O.C. far behind with his role as the idealistic Ben Sherman, who finally confronted Cooper in the season 3 finale - and then stuck by his partner to get him the help he needed for his drug dependency caused by his chronic back pain.
The best part of Southland's third season - and one of my favorite TV episodes of the year - was the installment "Code 4," where Detective Nate Moretta (Kevin Alejandro) was killed. Nate's death was not a surprise if you read the press, but knowing that it was coming didn't soften the blow one bit; for me, I think it actually made watching the episode harder, as I knew I was watching someone in the last hours of his life.
Both Alejandro and his on-screen partner Shawn Hatosy turned in magnificent work, their best on the series to date. If you weren't sobbing by the end of the episode, I'd get your heart checked.
The third season shook quite a few things up, and I'm excited to see where all the characters go from here.
Season four of Southland arrives on TNT January 17.