The 10th Anniversary Of '24'
How time flies: 10 years ago today, 24 premiered on FOX, and television - not to mention pop culture and the world - was never the same.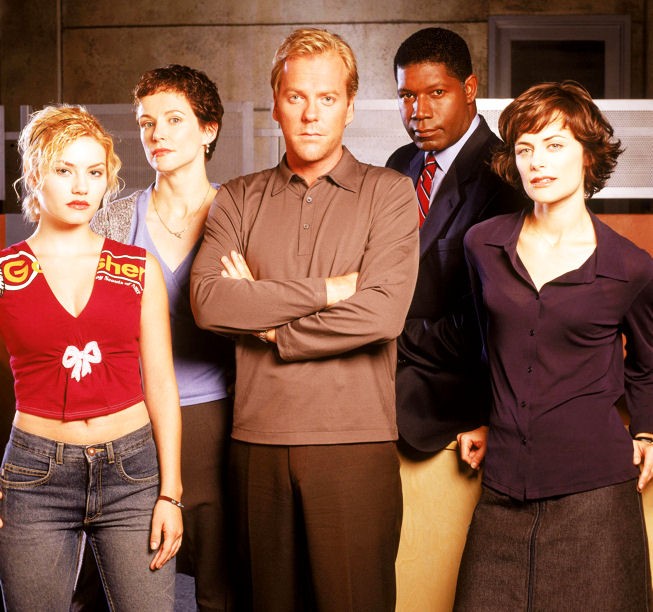 The action-drama series, created by La Femme Nikita bosses Joel Surnow and Robert Cochran, and starring Kiefer Sutherland as now-famous government agent Jack Bauer, was a groundbreaking piece of entertainment. It introduced the idea of a television series in real time (each episode was an hour in a day) and employed a distinctive visual style that included the widespread use of "boxes" to provide simultaneous glimpses at multiple storylines. In concept and technique, it was one of the most ambitious TV series ever.
We owe that to the likes of an incredibly hard-working crew that included Surnow, Cochran, Howard Gordon (Homeland) and talented directors like Stephen Hopkins, Jon Cassar and Brad Turner, as well as composer Sean Callery.
24 introduced the world to dozens of talented actors, launching or rejuvenating numerous careers. We have the show to thank for teaching us names like Sarah Clarke (Twilight), Leslie Hope (Line of Fire), Elisha Cuthbert (Happy Endings), Dennis Haysbert (The Unit), Carlos Bernard, Reiko Aylesworth, Mary Lynn Rajskub, Xander Berkeley (Nikita), Zachary Quinto (Star Trek), Eric Balfour (Six Feet Under), and many more.
There were also appearances by the likes of Connie Britton (Friday Night Lights), Dennis Hopper, Lou Diamond Phillips, Paul McCrane (ER) and Peter Weller (Dexter).
Yet for as many great faces and interesting characters as the show gave us, its razor-sharp writing wasn't afraid to get rid of them just as quickly. 24 had a smart writers room that pushed the envelope from the shocking ending of season one all the way to the series' end - and while sometimes things got tired (how many moles can there be in CTU, really?) they were at least always entertaining.
On a regular basis, this was the show that elicited screams, tears, and "did you see that?" conversations around the water cooler. This is the only series where I was so shocked at an event that I jumped up off my couch in tears, tripped, struck my head on the coffee table and knocked myself unconscious. It could be that startling and that moving.
An ambitious concept helmed by smart writers with a game cast: 24 was television at its finest. Critical acclaim was a given. It was nominated for 68 Emmys and won 20 of those. It is one of only two series (the other being The West Wing) to have won the Golden Globe, Emmy and Satellite Award for Best Drama Series.
Beyond being an outstanding creative achievement, though, the show is best remembered for how it captured the public consciousness. Jack Bauer became one of the most memorable fictional characters in television history. The show had its legion of devoted fans, with their own culture that included a postmortem chat show, a video game, CTU gear and in Japan - where it was particularly popular - an amusement park attraction. 24 was not just a series, it was practically an addiction.
And it did what so few entertainment projects do: raised the level of cultural and political debate. Throughout the show's run, it ignited discussions on everything from the treatment of Muslims in the media to the use of torture in the fight against terrorism. No matter which side of the argument you may come down on, it's to be commended that a TV show inspired us to have the discussion at all.
24 ended its run after eight heart-stopping seasons just last May, but there's no doubt that it left an indelible fingerprint on our consciousness - as a creative accomplishment, a cultural obsession and an intellectual object of thought. Rarely do works of art do one of those things, let alone all three.
So I must say thank you to everyone who made it possible, past and present, cast and crew, for their contribution to the television world. We're much better off for it.
Now, bring on the rumored 24 movie...