The 10 Most Memorable & Shocking Moments At The 2013 Oscars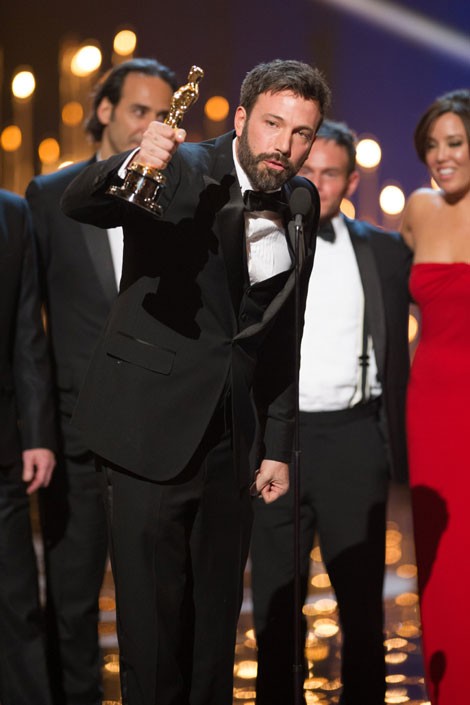 If you missed the 85th Annual Academy Awards, we have a roundup of some of the best (and most shocking) moments from the ceremony:
1.) Before the stars arrived, the toilets overflowed, flooding the lobby at the Dolby Theater in Hollywood, according to TMZ.com. Fortunately, custodians were able to vaccum the mess before Hollywood royalty descended.

2.) "Twilight" star Kristen Stewart surprised fans after arriving to the event on crutches. She apparently stepped on a piece of glass a couple days earlier but later that evening presented an award without the aid of the medical device.

3.) Host Seth MacFarlane compared the slavery beating scenes in "Djanjo Unchained" to a date night between Chris Brown and Rihanna. The hip hop star famously beat Rihanna the night before the 2009 Grammy Awards, and he hasn't been able to live it down since.
4.) MacFarlane also mentioned "Django's" controversial use of the "N" word and said the screenplay was loosely based on Mel Gibson's voicemails. When the audience didn't like his joke, he reacted: "What, now you're all on his side?" A couple of years ago recordings were leaked online of Gibson physically threatening his then-girlfriend Oskana Grigorieva. He also made sexist and racist remarks.

5.) John Travolta showed up out of nowhere after being involved in a huge gay sex scandal last summer.
6.) MacFarlane joked about Daniel Day-Lewis' portrayal of Abraham Lincoln: "I would argue, however, that the actor who really got inside Lincoln's head was John Wilkes Booth." The audience booed, and the host responded: "Really? 150 years later and it's still too soon?"
7.) After "Life Of Pi" won a "Best Visual Effects" Oscar, plans to use the acceptance speech to draw attention to the bankruptcy of Rhythm and Hues were cut short after the theme from "Jaws" started playing, preventing the winners from talking about the protests surrounding the situation.

8.) Towards the end of the night, Jennifer Lawrence fell on the stairs on her way to accept her "Best Actress" trophy for "Silving Linings Playbook." Oops!

9.) First Lady Michelle Obama presented the "Best Picture" award via a satellite feed to "Argo" producers.

10.) Finally, "Argo" director Ben Affleck rushed his acceptance speech so MacFarlane and Kristin Chenoweth could sing a horrible song and dance about the night's losers. Ick!