'That's What She Said': An Interview with Director Carrie Preston
In our August interview, True Blood star Carrie Preston spoke about her upcoming film That's What She Said - and today the movie makes its debut in theaters in New York and Los Angeles, as well as across all video-on-demand platforms. Carrie recently reconnected with me to discuss directing the film, how it got to the screen and what made it such an important project for her.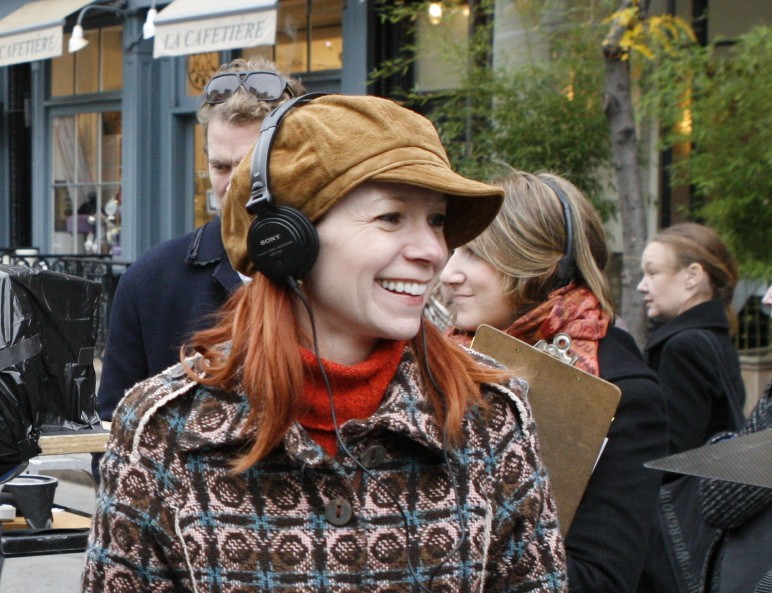 That's What She Said stars Marcia DeBonis as Bebe, Anne Heche as her best friend Dee Dee, and Alia Shawkat as Clementine, three New Yorkers who "embark on a day of misadventure that only New York City can offer." It is the antithesis of all those films about young, hip, beautiful single people and their romantic foibles. Before it was ever a film, though, Carrie revealed that That's What She Said began life in the theatre.
"It was originally a play that I directed, actually, on stage about eight years ago," she explained. "It was eight years ago that I wanted to turn the play into a film. My friend Kellie Overbey wrote the play and another friend of mine, Marcia DeBonis, was in the play, and I said 'We've got to turn this into a film and we've got to put Marcia in it, because she is so wonderful and particular and funny and vulnerable and real,' but she's non-traditional casting for Hollywood films. I said, 'I really want to make this film and put her in it.'"
Thus began a considerable journey for Carrie and her friends to bring the project to the big screen. "It took about six years before we actually started shooting and it's been two years since we shot the film," she continued. "You're looking for independent financing and also in my case I'm a working actor so there were times when I was really busy and just couldn't devote the energy to getting it off the ground. It wasn't a constant six years but it definitely was off and on always something. And then when I finally did shoot it, obviously that then became a top priority in my life. We're really thrilled that we're getting it out in the world, especially at a time when audiences are responding to female-oriented comedies."
When it came time to actually start making the film, the three ladies who had been involved in the play formed the nucleus for the production. "Marcia and Kellie and I were very collaborative," Carrie said. "Marcia was the main cast member I wanted to use; [she]'s a casting director as well. Kellie is an actor [and] she's in the movie. We're all hyphenates and we like to support each other in all of our artistic endeavors."
They still had two major roles to cast, and "We just hit the jackpot when Anne and Alia signed on, and it was Anne that actually suggested we bring Alia on," she continued. "There was a lot of camaraderie that happened on the set and I think it's because we all knew what a great story it was and we all knew we had a great rock to push up a hill."
Shooting an independent film wasn't without its challenges, but Carrie, the cast and crew found ingenious ways to make things work. "There was one scene that fans might find amusing," she said. "The three girls are standing under an awning and it's pouring rain. It was a bright sunny day when we shot that scene; we had a rain tower that was pouring rain down onto the awning and the street. We didn't have any background players on the set that day, and we didn't really think it through that just regular people walking on the street are not going to want to walk through water on a rainy day.
"We bought a bunch of umbrellas, and my husband, Michael Emerson, he - bless his heart - jumped under an umbrella and he would walk across, and [then] he would change umbrellas and he would wait a moment and turn around and walk the other direction."
The flick is not Carrie's first stint in the director's chair; she helmed the film 29th and Gay in 2005 and the short Feet of Clay in 2007. Describing her directorial style, she said "I like to say that I am interested in putting the characters and the actors and the performances front and center. My style's definitely about highlighting the actors and I think that's because I am an actor myself. I'm always going to have that as the lens through which I see projects. I'm not doing fancy camera work. I wanted the audience to feel like they were the fourth chick sitting at the coffee table with these three women."
"I was very, very adamant about this movie representing New York City in a real way and not in some romantic way. This is not Sex and the City," she continued. "Every single scene I put so much of my heart and soul into."
After eight years of hard work to get to this point, "I guess my proudest moment was when we got into Sundance," Carrie said. "I didn't realize how much that was going to mean to me. I dreamt of it. but it was a very private dream because it is a very difficult festival to get into. I have acted in at least eight or ten movies that were submitted that did not get in. I just assumed that we wouldn't get in but I had this secret hope that we would. When I got that call that we had been accepted, I was standing outside with Michael, and we were right in front of the Plaza Hotel, and I started screaming and jumping up and down and crying."
While she celebrates the release of That's What She Said, Carrie isn't going to be slowing down any time soon. "I always take the work when I can get it and I'm also someone who really loves being busy. I've got a lot of other stuff going on," she said. "I've been doing some episodes of Person of Interest and I will be doing more episodes of The Good Wife. I also did a little indie up in Maine and I'm working on a couple of web series, one of them I'm creating."
She's also encouraging audiences to get involved with a social media campaign for the film. "We're encouraging people, especially in New York and Los Angeles, but also anywhere that you can get the movie, to get groups of their besties to see the movie and turn it into an event instead of just smething that you watch at home, alone," she explained. "If people do that and they take a photo, we will post that photo on all of our social networks and Anne and I will tweet it to all of our followers." It's a fitting idea for a film that's about friends and a labor of love for the friends that made it.
That's What She Said is now available across all VOD platforms and in limited theatrical release in New York and Los Angeles. You can find out more information by visiting the film's official website and you can also follow Carrie on Twitter (@Carrie_Preston).
For more from Brittany Frederick, visit Digital Airwaves and follow me on Twitter (@tvbrittanyf).
(c)2012 Brittany Frederick/Digital Airwaves. Appears at Starpulse with permission. All rights reserved. No reproduction permitted.