'That 70s Show' Cast To Reunite For Fox Anniversary Special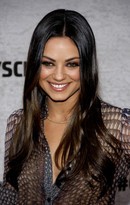 The stars of hit sitcom That 70s Show are to reunite on TV to celebrate the 25th anniversary TV network Fox.

Ashton Kutcher, Mila Kunis, Laura Prepon and Wilmer Valderrama will be among the stars recalling their favorite television moments as part of the two-hour special, which will air on April 22.

Wayans brothers Keenen Ivory, Marlon and Shawn will also take part and share stories about their funniest sketches from In Living Color, according to EW.com, and Fox favorites Randy Jackson, Jennifer Lopez, Steven Tyler (American Idol), Kiefer Sutherland and Seth MacFarlane (Family Guy and American Dad) will also feature.

There will also be recollections from sitcom Married...With Children with stars Christina Applegate, David Faustino, Ed O'Neill and Katey Sagal, Ally McBeal with Calista Flockhart and Beverly Hills, 90210 with Gabrielle Carteris, Gabrielle Carteris, Jason Priestley and Ian Ziering.

All the shows mentioned above aired on the Fox Network.