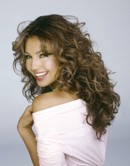 Music mogul Tommy Mottola has become a father for a fourth time after his Mexican superstar wife Thalia gave birth to a baby boy on Saturday.

The couple welcomed a son weighing seven pounds, 14 ounces, in New York and a representative confirmed the happy news to the New York Post's gossip column Page Six, saying, "All are well and they couldn't be any happier."

The little boy's name has yet to be revealed.

Mottola, who divorced pop superstar Mariah Carey in 1998 and married the Latina singer/actress in 2000, has two children, Michael and Sarah, from a previous relationship, as well as a three-year-old daughter, Sabrina, with Thalia.