Teyona Wins 'America's Next Top Model' - Is She Hot Or Not?

America's Next Top Model
followed protocol for their cycle 12 finale. The three remaining girls, Aminat, Allison and Teyona, shot a Cover Girl commercial and a photo with the new Cover Girl Outlast Lipstain.
Allison's commercial was vastly improved over her last attempt. The judges called it alright, but not great. They wanted her body language to be as expressive as her voice. The photo shocked the judges though; many of them didn't think Allison had the capability to be a commercial model. Panel praised her beautiful look as well as her overall job well done. She was the first to become a finalist.
Soon to join her was Teyona, surprisingly. Even though Teyona has been the likely winner of this cycle, she fell apart during her commercial. She couldn't get the words out of her mouth and broke down in tears. Her portfolio of work, and her photo shoot saved her to compete in the finals with Allison.
As far as Aminat was concerned, she did very well in her commercial, but her photo didn't shine. The judges praised her ability to speak like a regular human being, but didn't like that she still couldn't work her face in a photo. Basically they decided that she has all the potential in the world, but she needs to figure out how to use it. She was sent home before the final runway challenge.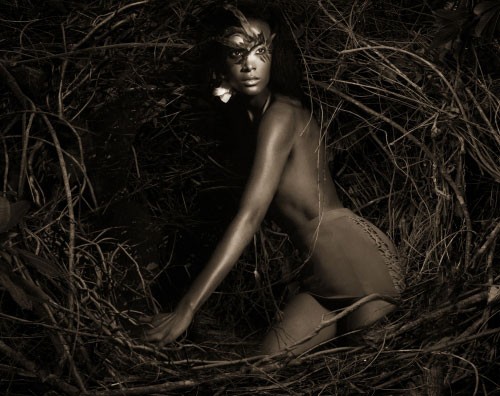 Allison and Teyona competed in a Rosa Cha Fashion Show where they donned bikinis and giant weave ponytails. The first round of the runway was just a normal walk. Teyona was expected to be the better walker out of the two, but she didn't live up to expectations. Allison, who said she had been practicing her walk, stunned the judges. She also had more fun on the runway, especially when Miss J stood up and danced by her on the runway during the second walk through. Teyona ignored him and went back to "Model 101" behavior.
The last round of strutting looked more like crawling. The girls were covered in a mud-like substance and crawled down the runway. Teyona's weave came out, but she shook her hair around like she was a rodeo wrangler. Allison looked cute and sexy, according to the judges.
When it came time for the final panel, everyone agreed that Teyona and Allison were very equally matched in the critiques and criticisms. Ultimately, they decided that Teyona wanted it more, so she was declared America's Next Top Model. She was very excited after the announcement and had an impromptu photo shoot with
Tyra Banks
. I think both girls were very deserving to be in the final two and have great modeling careers to look forward to in the future.
See Teyona's Photo Slideshow Here!
- Click pic for next page -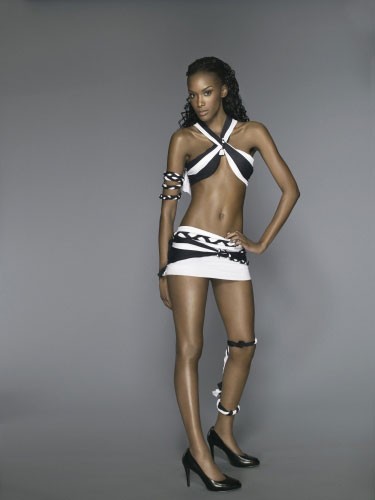 Image © 2008 Pottle Productions Inc. All Rights Reserved.