Texas Cheerleader, Big Game Hunter Kendall Jones Receiving Death Threats Over Facebook Photos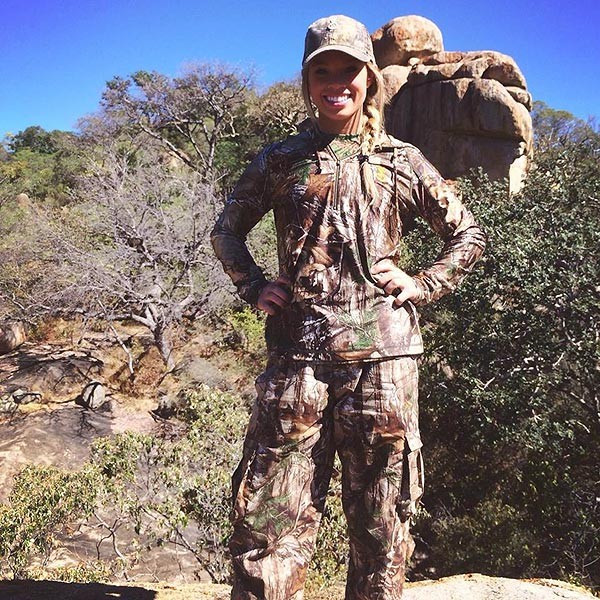 Texas Tech cheerleader Kendall Jones has been a hot topic lately, making headlines because she's not just a student, but also a serious (and seriously accomplished) big game hunter.

The 19-year-old posted numerous images of herself on Facebook with some of the animals she's hunted while on a recent trip to Africa, including lions, leopards and springboks. In fact, she bagged six of the "Dangerous 7" (the most difficult and deadliest animals to hunt on foot -- buffalo, elephant, leopard, lion, rhino, hippo and crocodile) by the age of 14.

Naturally, animal rights activists are up in arms and want her crucified, but Kendall says many of them are missing the point.

Jones, whose first big game hunt on the Dark Continent came when she was just nine-years-old, is a conservationist who wants to educate more people via a reality hunting series for the Sportsman Channel that's in the works.

"The show will not only be a hunting show but will also highlight conservation and hope to educate people and give them an understanding of how hunting and wildlife conservation go hand in hand," she tells her hometown Cleburne Times-Review. "There is not a hunter out there that doesn't care about wildlife. In the U.S. alone, hunting and fishing generate $87 billion a year into the economy. Much of this money goes to game management, game wardens, habitat preservation and anti poaching."

The teen has been getting lots of nasty comments and death threats on her facebook page since she posted the images.

"I knew when I posted these pictures that there would be people for and against my Facebook page," she tells the Times-Review. "I really am shocked at how rude many people are by name-calling and swearing. I have actually had several death threats, which are going to be investigated. Online bullying and making direct threats is a crime."

While the Sportsman Channel wouldn't discuss whether or not a TV deal was in place with Jones, spokesman Tom Caraccioli did say the network supports her.
In addition to her conservation efforts, there is a huge human benefit that comes with Kendall's hobby as well.

"There are many parts of Zimbabwe where there in an abundant population of leopard that wreak havoc on the livestock of the farmers in the village," she says. "Instead of the villagers killing the leopards to prevent livestock damage, permits are sold to hunters to do this for them.

"These people live in mud huts and have no electricity. The money derived from hunting is badly needed to help provide the bare necessities such as water and shelter."

Additionally, Kendall does eat what she kills.

"Another harvest for today," she captioned a photo of herself with one of her kills. "... White springbok, it's 1 of the 4 color shades of this animal! And let me tell you it's one of my favorite kinds of meat so far!"

Despite all the haters and the petition posted to change.org by a South African calling for her to be banned from the continent, hunters do make great conservationists.

Pigman TV, the company set to bring the footage of Kendall's recent Africa trip to television, issued a statement through BuzzFeed on Tuesday, aimed at those making death threats.

"With regards to the death threats Kendall has received from various members of activist organizations, we would simply ask that these folks consider if threatening to murder a human being for 100% legal behavior makes you worthy of the freedom to express your love for animals."

The Rocky Mountain Elk Foundation has 25 Reasons Why Hunting Is Conservation