Tesla Kicks Off 'Forever More' Tour

Multi-platinum rockers
Tesla
, Jeff Keith (vocals), Frank Hannon (guitars), Brian Wheat (bass), Troy Luccketta (drums) and Dave Rude (guitar) begin their "Forever More" tour today, Wednesday, October 1, at The Depot in Salt Lake City. Tour is named for their seventh studio album,
Forever More
, set for release October 7 on Tesla Electric Company Recordings (in partnership with Ryko Distribution).
"I Wanna Live," the new album's first single, is accompanied by a video featured on the band's site, aptly named,
teslatheband.com
where new updates are posted daily.
Tesla reunited with producer Terry Thomas and engineer Michael Rosen for
Forever More
. Thomas was behind the boards for the band's 1994 Gold-certified
Bust A Nut album
, while Rosen worked with Tesla on
Into The Now
.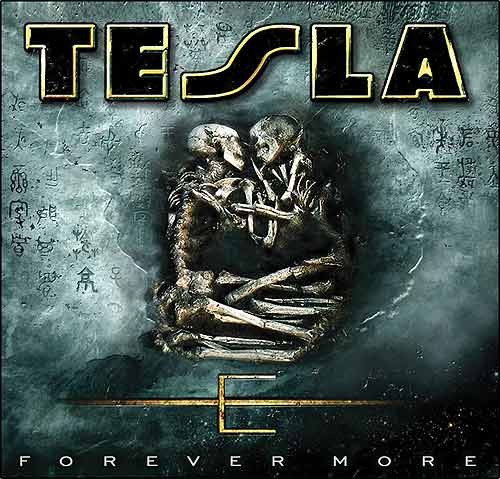 The band spent close to a year on a worldwide tour, between mid '07 and '08. During that time, the band recorded their
Comin' Atcha Live!
DVD, was released July 15. It's the band's first DVD in 17 years (since 1991's
Five Man Video Band
) and filled with over two hours of live music as well as special behind-the-scenes footage.
"After returning from Europe," says guitarist Frank Hannon, "we jumped right back into the studio to work on
Forever More
with Terry while setting up a tour of American festival shows in July and August, playing alongside bands such as
Matchbox Twenty
, the
Wallflowers
,
Queensrÿche
,
KISS
and
Judas Priest
. It's great that we can play with any band, of any music genre, because we've never been pigeon-holed into a style or label of music throughout our career."
Hannon continues, "All the tracks on
Forever More
offer a variety of emotions where each song has its own twist, not sounding like another.
Forever More
was written and recorded during a period of high energy and bizarre life circumstances for each of Tesla's band members, with those experiences coming full circle throughout the CD."
Forever More
is out October 7th
Tour dates and updated band info:
Official Site
MySpace Page
Listen:
I Wanna Live
(Windows)
So What
(Windows)