'Terminator 2': 20 Years Later
Can you believe that sci-fi epic Terminator 2: Judgment Day is now two decades old?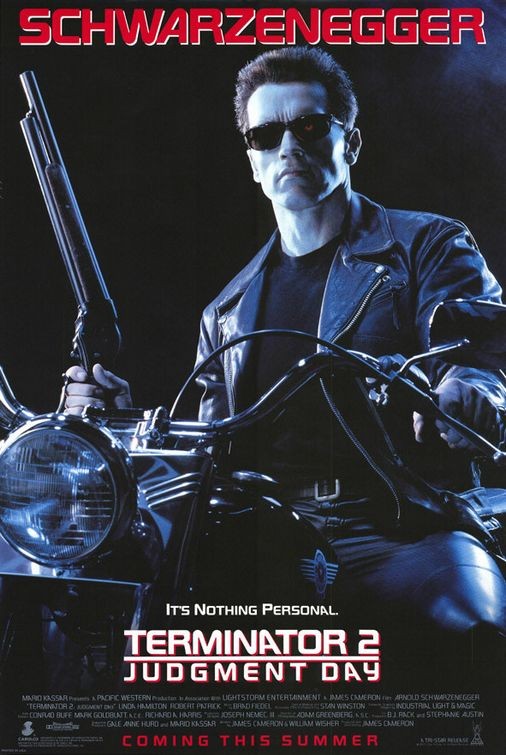 July 3, 1991, the sequel to 1984's The Terminator stormed into theaters, and has since become one of the biggest science-fiction films of all time. Fans and critics alike embraced the second chapter of the story, which took a unique tack: turn the villain of the first flick into the hero of the second. A T-800 model Terminator (Arnold Schwarzenegger) was sent back in time again - not to kill Sarah Connor (Linda Hamilton), but to protect her and her son John (Edward Furlong) from being killed by the newer, more advanced T-1000 (Robert Patrick). The flick made back its $90 million budget by the end of July and went on to win four Oscars. Internet Movie Database throws out this interesting fact: "In 78 years, this is the only sequel to win an Academy Award when the previous film wasn't even nominated."
So what made Terminator 2 so great?
This is the first movie I remember seeing, and to this day it's my favorite sci-fi film. At least for me, it's a perfect storm - this is clearly the type of movie we'd refer to now as a "summer blockbuster," rife with visual effects and huge setpieces (which were groundbreaking at the time no less!), but unlike the summer flicks of today, it also has a fantastic story and well-developed characters. It proves that a huge movie can also be well-written and well-acted. For a sci-fi adventure, it's surprisingly poignant.
Robert Patrick scared the hell out of me as the T-1000 - and I've been a fan of his work ever since. Linda Hamilton will forever be one of film's iconic heroines for her performance as Sarah Connor. There are also some great supporting actors in the film as well. Check out Joe Morton as Cyberdyne scientist Miles Dyson, S. Epatha Merkerson (Law & Order) as Dyson's wife Tarissa, and Xander Berkeley (Nikita) and Jenette Goldstein (Aliens) as John Connor's foster parents, Todd and Janelle Voight.
Even the smaller things are done so right in this film. Brad Fiedel composed the best film score that I've ever heard; when you remove it from the movie and play it back on its own, you can hear how fantastic it truly is. If you haven't had the chance to hear it independently, the score was re-released on CD last year.
I've been a die-hard Terminator 2 buff my whole life. I've been on the Universal Studios ride so many times that the people who work there started to recognize me. If it's related to the movie, chances are I've got it somewhere in my collection, from a copy of the script to little things like a Cyberdyne Systems badge with my name on it, action figures, T-shirts, and a T-1000 plastic model kit. This stands as one of my favorite movies of all time and I can't believe it's two decades old.
What's happened since then?
Terminator 2 eventually spawned a pair of sequels more than a decade later - the forgettable mess Terminator 3: Rise of the Machines (2003, with Nick Stahl as John Connor), and the better but not great Terminator: Salvation (2009, with Batman incumbent Christian Bale replacing Stahl). A fifth Terminator film is floating around; Internet Movie Database lists it as "in development." The franchise translated more successfully on the small screen; FOX gave us two years of Terminator: The Sarah Connor Chronicles starting in 2008, with Lena Headey doing a fantastic job as Sarah Connor.
James Cameron went on to do what James Cameron does - recently helming another heavily CGI sci-fi/fantasy flick, Avatar. Sadly, his co-writer William Wisher Jr. seems to have disappeared from Hollywood; following T2, he has only four writing credits to his name, and none since 2005.
The actors have had mixed outcomes. We all know what happened to Arnold Schwarzenegger (and how much trouble he's in right now). And although Edward Furlong has kept acting, he's also been in trouble with the law (he was arrested twice in the same day in September of 2001) and had his fair share of personal problems.
Linda Hamilton revealed that she was bipolar, and that her condition impacted her marriage to Cameron (the two were married from 1997 to 1999, and have one child together), but she has likewise kept acting. Fans suggested that she play the titular hero's mother on NBC's Chuck, and Hamilton appeared in 11 of the fourth season's 24 episodes as Mary Bartowski, to much acclaim.
Meanwhile, Robert Patrick went on to establish a long and varied career with "hey, it's that guy" status. Though he continues to do plenty of film work, outside of T2 he's probably best known for a pair of television roles - as Special Agent John Doggett in the final two seasons of FOX's The X-Files (2000-2002, including an episode that guest-starred T2 alum Joe Morton) and as the hard-edged Colonel Tom Ryan in CBS' The Unit (2006-2009). He recently appeared in the SyFy TV-movie Red Faction: Origins as Alec Mason, father of the main character.
As for the fans? Well, I can only speak for myself, but I recently considered buying a $900 1:2 scale Terminator bust for my office...until I remembered that to this day, Terminator endoskeletons still scare the hell out of me.
What memories do you have of Terminator 2?