Teri Hatcher Accuses Ex-Employee Of Hacking Into Her Company Computers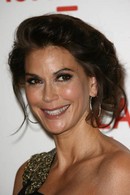 Actress Teri Hatcher has fired back at a former employee who is suing her for wrongful termination and fraud, accusing the plaintiff of hacking into her computer.

Jennifer Glassman launched a legal action in 2010, claiming Hatcher persuaded her to quit her PR job and head up the star's new company ISBE Productions, promising her half of the venture's profits. 
Glassman alleges she helped launch a website supported by Disney under Hatcher's name - but was fired months before the star was paid for the project.

At the time, the actress' representative dismissed the claims in the lawsuit as a "ridiculous fabrication" and her lawyers have been trying unsuccessfully to have the case thrown out of court, according to The Hollywood Reporter.

Last week, Hatcher's legal team filed a countersuit against Glassman with explosive allegations of computer hacking.

In new court papers, the actress' lawyers claim the disgruntled former staffer broke into ISBE's computer network using Hatcher's information after her dismissal and reportedly wreaked havoc on the email system, allegedly changing passwords, tampering with security data and copying documents, which included the star's financial details, onto her own hard drive.

Glassman is seeking unspecified damages for fraud, intentional deceit, wrongful termination and emotional distress, while Hatcher is demanding at least $100,000 in damages, claiming her former employee knowingly hacking into her computer without permission and breached confidentiality rules.

Ironically, Hatcher's former Desperate Housewives co-star Nicollette Sheridan is currently fighting her own wrongful termination lawsuit against TV bosses at the ABC network.