Ten Greatest Albums Of The Decade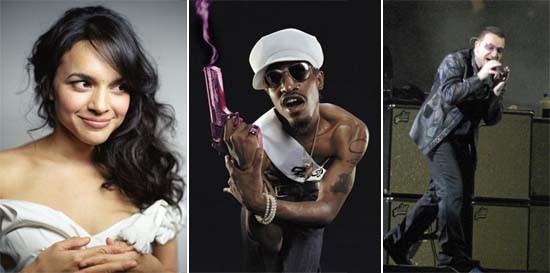 So far, we've brought you the
Greatest TV Shows
and
Greatest Songs of the decade
. Now it's time to look at what may be a dying breed. With the advent of the ability to download singles off the Internet individually, and the massive popularity of the iPod - it's no longer necessary to buy an entire album in order to hear the one or two songs you'd really like to own. Because of that, it may no longer be necessary for artists to create albums, or even sign record deals. This could be the last decade the album is a dominant artform. With that in mind - here are the Ten Greatest Albums of the Decade.
Remember, we are dealing with Greatest - not Best, not Favorite - but Greatest. Here's a refresher on the five determining factors that make an album the greatest:
Appeal
- How well-liked something is by the masses. Simply put, how many people consider it their "favorite".
Acclaim
- How the critics and cognoscente evaluated something. In other words, how often it is considered the "best".
Popluarity
- Very simple - how many people experienced this piece of pop culture in the way it would be consumed.
Zeitgeist
- How much something enters the public discourse. Catchphrases, clichés and a general buzzing determine this category.
Influence/Originality
- Pretty much speaks for itself - One thing's impact on those that come after it is crucial in determining greatness.
And with that, here are the Ten Greatest Albums of the Decade:

10. "Taking the Long Way" by The Dixie Chicks
The Dixie Chicks are unquestionably the biggest country act of the decade with a massive in-the-round tour in the early part of the decade turning them into stadium sensations - but it was during that tour that Natalie Maines made some comments about
George W. Bush
that sent them into hiding from death threats and cat calls.
Two years later they emerged with a nearly completely self-written masterpiece that combined bluegrass, pop, country and rock into a perfect mix of angry tunes that defied the usual themes of country and western - giving them a sound completely unique.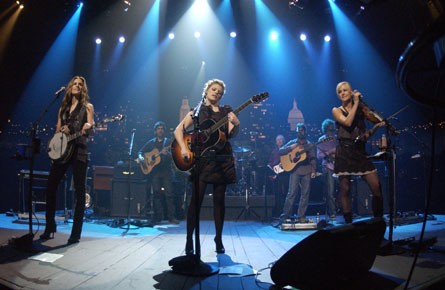 Image © Public Broadcasting Service (PBS)
The album did well selling over 2 million copies, but it wasn't the public that made this a sensation. It was hailed by critics and Grammy voters, that latter of whom dubbed it Album of the Year - with tracks that featured both the Record and Song of the Year, "Not Ready to Make Nice".
This was a big crossover achievement for the country group, and one that allowed them to stand out from their Nashville peers.

9. "All That You Can't Leave Behind" by U2
Following the disaster that was The Pop Mart Tour, a lot of quiet speculation was circulating - people wondering whether or not U2 was over. We'd finally begun to think they were no longer the young anthemites we loved, but now old men who had lost their way.
Then "All That You Can't Leave Behind" came out. This was an album that combined the slick production of their "
Achtung Baby
" days with the soaring anthemic punk that first allowed them to breakthrough as they first came out of Ireland. Its lead track, "Beautiful Day" was nearly ubiquitous, and propelled the album to the top of the charts and over 4 million in sales.
The Grammys took notice as well, awarding U2 Best Rock Album and several more Grammys for songs on the album - awards that spanned three years. It also marked a return to prominence with the critics for U2 - many calling it a masterpiece on par with the legendary "
Joshua Tree
".
Most of all, this album established U2 as one of the biggest hitmakers and touring groups of the decade - allowing them to take their place as rock legends.

8. "Stankonia" by Outkast
Can you say critically acclaimed? It's rare for a hip-hop album to receive an incendiary level of praise, but this one was album everybody could agree upon.
But this album was more than just acclaimed - it was the disc that allowed Outkast to move from fringe southern hip-hop experimentalists into bona fide hit machines, as the album's second single, "Ms. Jackson" topped the charts and allowed the duo to ship over 4 million copies of the disc.
This album was also massively influential. The Dirty South style of Hip-Hop had always been prevalent in the rap world, but with "Stankonia" the style was both refined and expanded - breaking it down to its purest elements and then sonically blowing those elements up into a hip-hop stew of experimentation.
This is one of the first art hip-hop records, and raised the game for rappers to follow.

7. "American Idiot" by Green Day
Speaking of an album that took a form of music to its logical and artistic extreme, Green Day's "American Idiot" did just that for punk.
Rather than following the punk standard of putting together as many 3-minute screamers as possible, Green Day sought to create a concept album that analyzed suburban malaise in a punk opera of sorts. This was a major departure for the group, and the genre in general. One that ultimately proved extremely successful.
The album soon shot to number one on the strength of its award-winning single "Boulevard of Broken Dreams" and went on to sale over 5 million copies and take home its own award for Best Rock Album at the Grammys in addition to its nomination for Album of the Year.
But this was more than just a critical and commercial success. With "American Idiot", Green Day really revolutionized the genre with which they'd had so much success for their entire career. Rather than rest on their punk laurels, they maximized their sound and vision to create something that led them to become everybody's secretly favorite band, to something of a badge of honor for their fans. The depth and quality of their music - along with some lyrics beyond simple screaming - made Green Day a band people could claim as their own with a sense of pride.
Maybe this would cause some to see them as a sellout - but increasing quality and expanding sound is really just a matter of greatness and something that will probably set the standard for punk bands looking for critical credibility for years to come.

6. "Come Away With Me" by Norah Jones
One of the more unique albums - and probably the most unique hit album - of the decade. Norah Jones shot out of nowhere in 2002 and exploded onto the scene with her unique blend of jazz and folk pop that seemed to captivate listeners into buying her album, to the tune of over 10 million copies sold.
Jones also did something to bring the Lillith Fair movement over to this decade. But rather than furthering the shrill brand of feminipop that was the hallmark of that musical sub-genre, Jones instead turned to sophisticated and well-developed music that commanded, rather than demanded, that people listen. A stark contrast to her predecessors, and certainly a departure from female pop stars like
Britney Spears
and
Christina Aguilera
.
Her singular creation was hailed by critics, and earned her 7 Grammys in 2003 in categories like Album of the Year, Best Pop Album, Record of the Year, Song of the Year, and Best New Artist. Y'know, nothing major. Plus, she beat out
Miles Davis
to claim to the best-selling Jazz Album of all time. That's an accomplishment.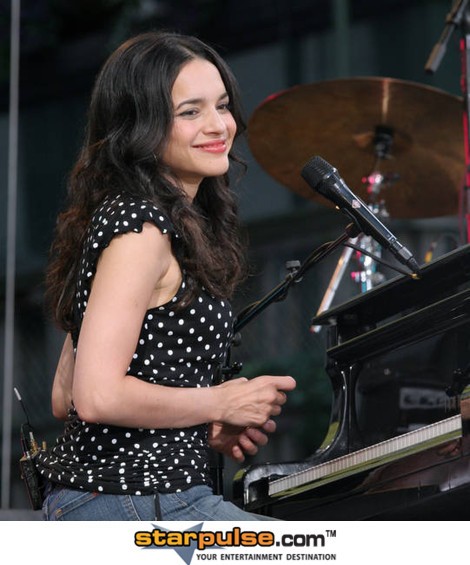 Image © PR Photos
Sure, Jones has kind of been MIA ever since she dominated the adult contemporary dials and even MTV with her airy jazz, but in her prime she was as important, and original, as any artist this decade.

5. "Fearless" by Taylor Swift
A few months ago, this album wouldn't even been on the radar, but since then Taylor Swift has absolutely exploded. It may have started when Kanye bumped her off the stage at the VMAs, it may have started when she became the youngest artist ever to win the CMA for Entertainer of the Year, it may have started when she pulled double duty by hosting and performing two of her hits on a boffo installment of "SNL". Whenever it started, the end of the decade belonged to Swift.
With her second album she also did something very different from a musical standpoint. While her debut was mostly Nashville twang, "Fearless" caught on with a singular blend of country and young girl pop. Sort of a
Mandy Moore
meets
Dolly Parton
combination. This formula proved incredibly successful for Swift, allowing her to move nearly 5 million (and counting) copies of the album, and notch more songs on the Hot 100 at one time than any other female artist in history.
Amazingly, this success all came very late in the decade and seems to just be picking up momentum. The album just earned Swift eight Grammy nominations and seems poised to pick up a majority of them - plus she's now touring sold out arenas and capturing the fondness of generations far beyond her tween girl target audience.
Looking back a few years from now, we may see "Fearless" as the beginning of a Taylor Swift dynasty as it's certain that some production machine is ready to turn her into a brand rather than just a musician. But for now, we can savor a perfect blend of country and pop that is this album and watch its creator's star rocket skyward.

4. "A Rush of Blood to the Head" by Coldplay
There was a time where most of the musical cognoscente considered Coldplay nothing more than a Radiohead ripoff. What, with their flowing melodies and high-pitched singer, this was nothing more than a mediocre band rehashing a legendary band.
"A Rush of Blood to the Head" changed the perception of Coldplay - turning them into a rock/pop force capable of dominating the charts. The singles from the album are etched in everyone's brain - "Politik", "The Scientist", "In My Place", and the best of the bunch "Clocks" - and spun through radio stations for nearly two years.
More than just pop success, this album firmly established Coldplay as a band willing to expand their sound and take sonic risks. Rather than the lilting pop that repeated itself all throughout "Parachutes", "Rush" saw Coldplay take a harder and more piano-based look at the band's sound, allowing them to create fuller and rounder melodies. This would come to define a band that became the biggest in the world as the decade wore on.
Of course, this album also saw Coldplay first achieve monumental success. It sold over 5 million copies and its aforementioned singles all charted well.
The album also saw the band achieve massive critical success leading to the group's winning several Grammys including Record of the Year for the Album's most popular single, "Clocks".
Right now, it doesn't seem possible that Coldplay was once an up-an-coming band who sounded a lot like their English contemporaries. It's strange because "A Rush of Blood to the Head" made Coldplay so ubiquitous and revered that a musical landscape without them just doesn't seem right.

3. "In Rainbows" by Radiohead
This album is barely even on here for anything having to do with music. Sure, it may be Radiohead's most mature and complete work ever, but music almost seems incidental compared to the way this album was released.
There was a time when the only hope for a band was to play clubs until their fingers broke in the hopes that some sleazy record executive would hear them and offer them a rip-off of a record deal. Once that deal was completed, maybe the band would be popular enough to negotiate their own deal - then maybe they would have some form of control. But mostly, the music industry was all in the hands of the suit-clad.
With "In Rainbows", Radiohead shattered that notion of control - releasing the album entirely by themselves on the Internet. This seemed like financial suicide until people started voluntarily giving them money for the download. This was a whole new business model that soon saw Prince giving away albums and many other acts pondering the self-release strategy. Wherever this goes in the future, the revolution began with Radiohead and "In Rainbows".
Of course, there's also the music to consider - and it was excellent. How excellent? So much so that "In Rainbows" was nominated for Album of the Year and actually won a few Grammys. Why should this be so surprising? Because the Grammys are voted on by the same record executives Radiohead attempted to make redundant. You have to make some pretty fine music to earn that level of respect.
We may never know how popular this album was - though it did sell 3 million copies, which is pretty good - due to its unique release structure, but the way it changed the music industry will probably be felt for decades to come.

2. "The Marshall Mathers LP" by Eminem
In the first half of the decade, there was arguably no bigger act in music than Eminem. He courted controversy wherever he went, dominated the charts with hit single after hit single, and had several albums ship out boatloads of copies. Of all the things Eminem did to make an impact this decade, they can pretty much all be condensed into this one CD.
This album contains his most controversial song, the award-winning "Stan", that also led to his most prominent moment. It was the victim of maybe the most shocking Grammy upset this decade, when it was outpaced by Steely Dan's "Two Against Nature", and still managed to pick up three Grammy Awards at the show anyway. It's also one of the best selling albums of the decade, selling over 10 million discs - a major accomplishment in the time of Napster.
Most of all, this was the album that really established Eminem as an artist. He would never go on to win the respect of the press and the industry were it not for the strides he made with this album. He certainly never would have won an Oscar without it.
On "The Marshall Mathers LP", Eminem's sound really matured. He still used the same obscene joke lyrics and intensely energetic delivery with the funhouse loop beats, but everything was more refined and intelligent. He grew up quickly on his second album, establishing him as the premier MC of an entire decade. Maybe even an entire generation.
It's arguable that his third album, "The Eminem Show" was an even greater success than this one, but "The Marshall Mathers LP" stands far above it due to the fact that it served as the moment Eminem really arrived. He was no longer the gimmicky rapper with the belly-laugh and cringe rhymes. He became a fully established artist with one disc. This was it.

1. "Speakerboxx/The Love Below" by Outkast
The album that gave us the greatest song of the decade, "Hey Ya!". That would nearly be enough to put this over the top right there. That song was so joyful and ubiquitous, it's almost as if the rest of this double-disced masterpiece served as an opening act.
Luckily, that opening act almost played the headliner off the stage. This song is wall-to-wall with Outkast's trademark brand of psychedelic southern hip hop, just with a far expanded scope than they'd ever used before.
Many albums would to love simply have a song that compares to "The Way You Move" as their best single, and this was almost lost in the shuffle in the wake of "Hey Ya!" Not to mention the insane collection of funk-track classics that sprung off this album like a Technicolor hip-hop dream.
The album was practically catnip for critics who hailed its coming months before it even arrived. The follow up to "Stankonia"? Surely it must be the best album we've ever heard. And it wasn't far off.
And this album wasn't just a hit with critics - it was a massive success amongst the general population as well. It sold over 11 million copies becoming the group's first number one album and probably one of the most played after its purchase. For a year or two after its release, Outkast quickly became one of everybody's favorite groups - and the massive critical success made it acceptable for both music snobs and teenyboppers to enjoy them as well.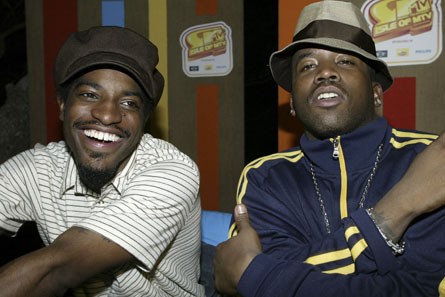 Image © MTV Networks
The album went on to own the Grammys - winning Album of the Year amongst its three wins in six nominations - and pretty much every other awards show. The group's performances became a spectacle to rival the sonic marvel that were their tunes, and the sort of fun, even hip-hop they created went on to influence everyone from Kanye West to Beyonce to Lady Gaga.
Outkast was an act uniquely of this decade. They were both incredibly brand new yet felt like they'd been around forever. In a decade where people craved authenticity yet wanted to be the first one in on any new trend, Outkast gave us both with an album that so perfectly took everything we already knew to be successful in funk and brought it to life with a brand new energy.
This was the Greatest Album of the Decade.
Check back tomorrow for the Ten Greatest Movies of the Decade.
Story by
Andrew Payne
Starpulse contributing writer