Ten Films I Love That You've Never Heard Of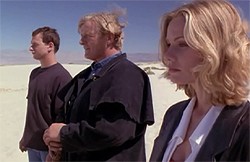 Brittany's Blog: This is my viewpoint, from the far end of the couch...and this weekend, I'm busy re-organizing my DVD collection. All 3,000-plus of them. But while I own my fair share of blockbusters, I also have a special place in my heart for lesser-known movies. A lot of great films fly under the radar, and as I'm moving a few of them around on my shelves, I thought I ought to share them with you.
In alphabetical order, here are ten of my favorite flicks that you probably didn't know existed, and links so you can pick them up for yourselves (which you should).
1. Archangel (2005): Everyone knows Thomas Harris as the novelist who penned the Hannibal Lecter novels, which in turn gave us Manhunter, The Silence of the Lambs, Red Dragon, et al. Yet he also wrote another great book called Archangel, and that was adapted into a great telefilm in 2005. It stars soon-to-be James Bond Daniel Craig as a history professor who gets into serious trouble in Russia, and Suits leading man Gabriel Macht as the overly nosy reporter R.J. O'Brien. Archangel is moody, suspenseful and actually improves on some of the book's flaws. I'm not a history buff, but I think I've seen this movie at least a dozen times.
2. Around the Bend (2005): Josh Lucas, Christopher Walken and Michael Caine all appear in this story of three generations of one family - and that alone should be enough for you to give it a watch. But in case it isn't, Around the Bend is one of the most heartwarming films I've ever seen. There have been a lot of films about quirky families, but this one feels real and also happens to be pretty hilarious. Keep your eyes open for a gag about a Kentucky Fried Chicken. All the lead actors give great performances, in particular Lucas and Walken as relatives who couldn't be farther apart but have to figure each other out regardless. This is one to watch with your family.
3. Crossworlds (1996): There's a certain stigma that direct-to-video movies aren't that great, but for me, this oddball picture breaks the mold. It's not going to win any awards, but it's ridiculously fun. The Good Wife's Josh Charles plays a college kid who ends up having to save the world with the help of Rutger Hauer and Rescue Me's Andrea Roth (all pictured above). Plus, Jack Black is here as the token crazy friend. It's the last ensemble I'd put together for a sci-fi action flick, but somehow it works, and it has really great music. One warning, though: this movie also has the longest opening credits sequence known to man.
4. Cypher (2002): I asked myself what had happened to Jeremy Northam after The Net, and it turns out he went on to star in this mind-bending pic with Lucy Liu. It's not a novel premise - bored accountant gets involved in corporate espionage and things go sideways - but once it starts, the plot twists keep coming and it evolves into something pretty nifty. The cast all give great performances, and there's plenty of action to go around, leading to an ending that had me going, 'I should've seen that coming.' Definitely one of my favorite sci-fi flicks.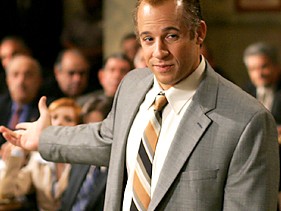 5. Find Me Guilty (2006): For all those people who think Vin Diesel can't act, you should check out this Sidney Lumet flick, in which he plays mobster Jackie DiNorscio. He's miles away from The Fast and the Furious or Pitch Black here; just check out the picture above. There are also great supporting performances from Law & Order's Linus Roache as the frustrated prosecutor, and Game of Thrones' Peter Dinklage as a defense attorney who does his damnedest to keep Jackie from making a fool out of himself. The proverbial icing on the cake is that this is a film directed by one of our best directors, and it happens to be based on a true story.
6. Ground Control (1998): Normally I avoid the whole disaster-movie genre, but I forced myself to watch this one for Kiefer Sutherland, and I was pleasantly surprised. Sutherland's Jack Harris is an air traffic controller who cracks after a plane goes down on his watch (and that sequence itself is oddly chilling for what's obviously not a high-budget movie), and he's content to avoid life in general until his former boss calls him in to help with another potential air disaster. House's Robert Sean Leonard has a supporting role as a hotshot controller who thinks he knows everything. The cast makes this movie.
7. High Life (2010): Everyone knows how great a dramatic actor Justified star Timothy Olyphant is, but I don't think he gets enough credit for his comedic aptitude. Adapted from a stage play, this movie is laugh-out-loud funny and it's in large part because Olyphant is the deadpan anchor of the ensemble. His character has just gotten out of jail, only to be roped back into a scheme with his much less repentant buddy and some friends that, of course, goes horribly wrong. It's a completely different part than Raylan Givens, and shows Olyphant's range and versatility, while you'll be laughing non-stop throughout. (I did a detailed review of this movie on my website.)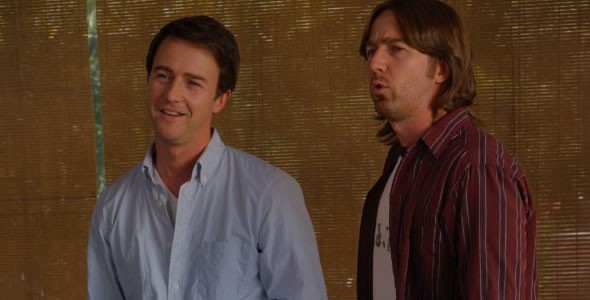 8. Leaves of Grass (2009): This one's a recent discovery, but it's already become one of my favorite movies of all time. Firstly, I'm not sure if Tim Blake Nelson is insane, or a genius, or both for coming up with such a unique story that is hilarious, intriguing and utterly nuts at points, but never ceases to work. This may also be Edward Norton's best acting performance - or at least one of them - considering that he's playing identical twins and, if I didn't know it's the same actor, I'd think I was watching two different people. What pushes Leaves of Grass over the top for me is the commentary track; as someone who loves filmmaking, learning how they pulled the whole thing off is fascinating. I could go on about this flick for days...but I won't, because we still have two more movies on this list.
9. The Sight (2000): This telefilm was actually a failed pilot for a TV series, and to this day I find myself wondering how great that show would've been. Andrew McCarthy plays an architect who sees dead people. and I'm always an advocate for more of Andrew McCarthy. The writer-director is Paul Anderson, who directed the cult classic Mortal Kombat, and who makes this similarly enjoyable, albeit with more suspense instead of outright action. Every time I happen to catch this (it pops up now and then on Fox Movie Channel), I always have to stop and watch it. That's a sign of a good movie.
10. Sliding Doors (1998): My favorite romantic comedy, thanks to the charm of and chemistry between stars Gwyneth Paltrow and John Hannah. We've all had those moments where we wonder "what if?" in our lives, and Sliding Doors plays out that thought, showing how Helen's (Paltrow) life would be drastically different depending on whether she made or missed her morning train. Sliding Doors is sweet, funny, and even a little bit emotional, and Paltrow and Hannah are a great pair together, resulting in the film equivalent of comfort food.
I'm pretty sure this list could be three or four times longer, but that's enough to get you started for now. You can click on the titles above to purchase your own copy of any of these movies.
What are some of your favorite films that people don't know about? Why do you love them? Leave your recommendations, and maybe I'll check them out for a future column.
Until next time...
For more from Brittany Frederick, visit my Starpulse writer page and follow me on Twitter (@tvbrittanyf).  
(c)2012 Brittany Frederick/Digital Airwaves. Appears at Starpulse with permission. All rights reserved. No reproduction permitted.