Ten Annoying Things About Award Shows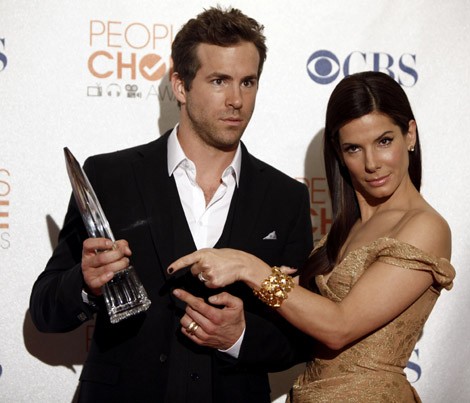 Award Show season kicked off this week with the
36th Annual People's Choice Awards
. The People's Choice Awards and upcoming award shows like the Golden Globes are a prelude to the biggest award show of the year - The Academy Awards. While the Academy Awards is the biggest award show, it is also the most boring award show on television. From long acceptance speeches to award categories viewers could care less about, there are several annoying things about the Oscars and many award shows in Hollywood. And the nominees are:
1. Long and unprepared acceptance speeches
If you've seen video of Mariah Carey's long and drunk acceptance speech for her breakthrough acting award for "Precious" at the Palm Springs International Film Festival, then you should agree that these long acceptance speeches at these award shows are a major problem. We've seen it over and over again. A nominee wins an award, steps on stage, and then proceeds to read a speech the length of a monologue. They acknowledge and thank everyone from their high school Physics teacher to their pet poodle. There's nothing wrong with thanking people who have helped you get to where you are. But how is a pet poodle one of the reasons you win an award? This rambling goes on for minutes even past the music the Academy uses to limit an award recipient's speech. It needs to stop! Also, some of the nominees don't prepare a speech in case they win an award. When they do win, they go onstage not knowing who to thank or what to say. Why bother show up to an award show if you don't think you're going to win and don't have a speech prepared beforehand?
2. Fashion show on the red carpet
Award pre-shows used to be exciting to watch. You would wait in anticipation to see your favorite celebrities arrive on the red carpet before the award show begins. It was always cool to hear what they had to say about the other nominees in their award category or who they're looking forward to seeing that night. Now, these red carpet award pre-shows are like an episode of "Project Runway." They have fashion experts analyzing and evaluating what these stars are wearing when they step out of their limos. Sometimes these fashion experts don't even know what they're talking about. How are you going to comment on a celebrity having a bad dress when your dress is just as bad? The correspondents on the red carpet are worst. They just ask the celebs what they're wearing or who's their stylist. Who cares?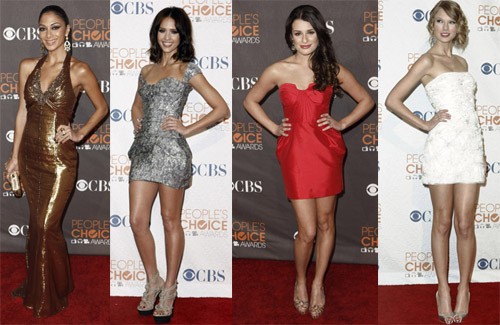 Image © PR Photos
3. Presenters who forget their lines or can't read the teleprompter
You would think that memorizing lines would be an easy thing for actors since that's their primary job. But for some reason, some of these actors get amnesia when they go up to present an award. They can't even remember two lines. Two lines! How do you forget two lines? To make matters worse, some of the presenters can't read the teleprompter, even though the words on a teleprompter are large enough for someone to see from the moon.
4. Unnecessary Award categories
Some of the award categories at these award shows shouldn't be aired live. The Academy Awards, for example, has award categories for Best Costume Design, Sound Mixing, Editing, and Choreography. Why should a viewer sit there and watch an award given to a technical person they know nothing about. Viewers watch these award shows for celebrities, not technical people. These technical people do deserve some recognition for what they do behind the scenes in creating a great film or TV show. But maybe they should receive their awards before or even after the show. Not during it. No one watches The Academy Awards and says, "I can't wait to see which film wins for Best Background Lighting." Nobody cares!
5. Composed music/Musical numbers
At most of these award shows like the Golden Globes and Academy Awards, they have a Symphony Orchestra performing classical music between the award presentations. This is when most people turn the channel. There's nothing wrong with classical music, but what about some rap, rock, or dance music to elevate the mood at the Oscars. Lady Gaga would be exciting to watch between the award presentations because you never know what stunt she'll do or bizarre suit she'll wear next. Also, the musical numbers at the Academy Awards should be banned!
Billy Crystal
was great at it when he hosted the Academy Awards and
Hugh Jackman
did a good job at last year's Academy Awards. But there were four musical numbers at the Oscars last year. It was like watching the Tony Awards.
6. Unfunny hosts
Award shows always hire celebrities who aren't comedians to host the show and expect them to be Johnny Carson. More times than none, these hosts try to hard to be funny and come off as very annoying.
Russell Brand
's performance at the 2008 MTV Video Music Awards was more shocking than funny. But he did poke fun at the
Jonas Brothers
' purity rings, which is always humorous. The 60th Annual Emmy Awards featured five hosts from reality shows -
Jeff Probst
,
Heidi Klum
,
Howie Mandel
, Tom Bergeron, and
Ryan Seacrest
. Some of them are funny on their TV shows. But none of them were funny that night at the Emmys. The five hosts idea was a disaster for the Emmy's and it gave the show its lowest ratings ever.
7. Award shows are too conservative
Most of these award shows try not to offend viewers or upset the FCC. The Academy were biting their nails when they hired
Chris Rock
to host the 77th annual Academy Awards in 2005. Luckily, Rock didn't say anything off-color. Some award shows, like the Academy Awards, broadcast with a 30-second delay to edit out anything profane or offensive that occurs during the show. This conservative approach makes these award shows boring. At least MTV had the guts to allow
Sacha Baron Cohen
put his bare butt in Eminem's face jokingly at last year's MTV Movie Awards.
8. Same Nominees and Winners Every Year
It gets boring after awhile to see the same actors and TV shows nominated at the Emmy's year after year. And the same winners every year too. At this past year's Emmy's, Amazing Race won "Best Reality Competition" for the seventh year in a row.
The Daily Show
also won for the seventh year in a row for "Best Variety/Comedy Series." Some of these nominees have to wait years before they win. It took Susan Lucci 19 nominations before she finally won the Daytime Emmy for "Best Outstanding Lead Actress" in a Drama Series.
9. Clip packages
Just like the Emmys have the same nominees and winners every year, they also have the same clip packages every year. It's the same clips from the same TV shows and the same actors. At the Academy Awards, there's just too many clips. There's montage clips, behind the scenes clips, dramatic scenes clips. Clips, clips, and more clips. All of these clips are the main reason the Oscars are close to four hours long every year.
10. Celebrities who have no business being there
How many times have you watched an award show and seen a celebrity who doesn't fit in or belong there. Like
Mike Tyson
onstage with the
Jonas Brothers
at last year's Teen Choice Awards. There's something strange about seeing Iron Mike at an awards show surrounded by Disney's young stars like
Miley Cyrus
and
Zac Efron
. What's next?
Kanye West
at the Country Music Awards?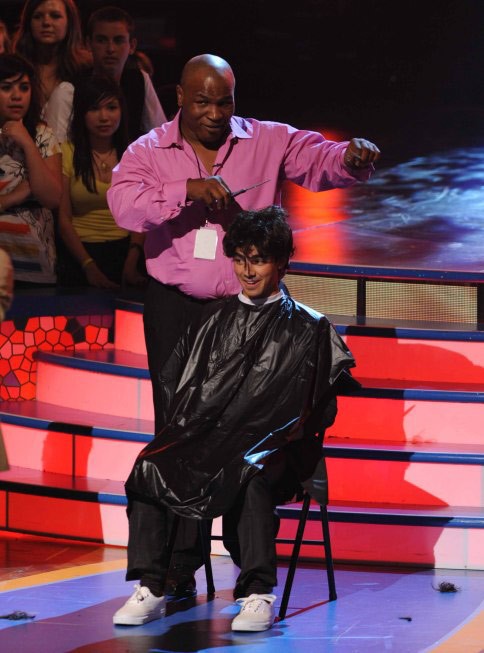 Image © PR Photos
Story by
Maccorley Mathieu
Starpulse contributing writer