'Teenage Mutant Ninja Turtles': Nickelodeon's Cast On The Movie, The Show, And The Fans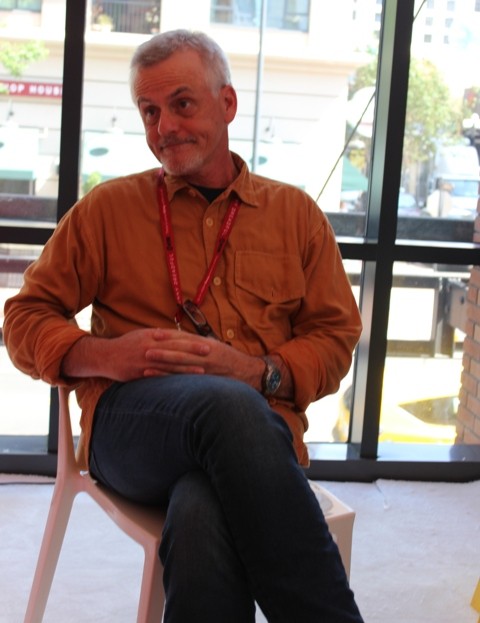 Teenage Mutant Ninja Turtles power never dies. As the new film conquers the box office, we bring you our chat with some of the team behind Nickelodeon's animated series - the legendary Rob Paulsen (Donatello, pictured above), Greg Cipes (Michaelangelo) and executive producer Ciro Nieli - to discuss the movie, the show, and the passionate fans that still love these heroes on the half shell.
Did they know that a new TMNT feature film was in the works? "It's been five years [since work began on the series]; they didn't start till a few years later on the movie," Ciro told us. "You just kind of assume that's going to happen, but we didn't know it going in.
"As far as the working relationship throughout, they checked in with us a little bit here and there. They were deriving inspriation from us, because the show serves as, it's like a litmus test for how it's being perceived already, so they're just reacting to that. So that's kind of the extent of it."
But it's not as if there aren't a ton of other properties for the creative team to contend with. After all, there were multiple TMNT TV series in the history book before this current edition came into production. So how did Ciro and his team decide what approach they wanted to take with these beloved characters?
"It wasn't that hard for me, because I'm from the standpoint of being a really huge Mirage [Comics] fan," he explained. "I didn't watch the 1987 show as a kid because I was older; it was after my time. And being a comic fan, I held onto that.
"Being older now, I was able to look at all of it with a little bit of perspective, and I was able to say this is why the 1987 show was valid and I can pull this from it, and this is why the Mirage stuff is valid," he continued.
"And I think I was able to find a little bit better balance than other shows, because a lot of them were just a shot in the dark, I think, until this one. I think the 2003 show was probably trying to serve Mirage too much, and it probably got a little dry, or just action-heavy."
"With us, we wanted the charm of the 1987 show, we wanted that likability, we wanted to serve nostalgia," he added, "but it's arc-driven. And there is an action element still."
"The audience is very sophisticated," agreed Rob, who provided the voice of Raphael for the majority of the 1987 series, "but still in all it's about the story. It's about loving the characters and caring about the characters, even the ones that are the bad guys. You have to care what happens. And Ciro and his crew have to put together something that ticks all the boxes.
"It's very unique in that it appeals to people who watched the original one, and people who are now six, seven, eight years old who love the new ones," he continued.
"It's so unusual to have a franchise that lasts for a generation, that has a huge fan base that is as important today as it was 25 years ago, arguably moreso, because it's huge. It's a bigger fan base. It's not just people saying 'My kid's a turtle freak.' Now they're the parents [saying] 'I'm a turtle freak and so is my kid.' It's really cool."
"It's the coolest gig ever," said Greg, recounting an earlier meeting that he had with the boxer Mike Tyson. "He was so happy. He gave me a big hug, kissed me on the face."
With a clear love for these characters just as much as any TMNT fans, it's hard for these guys to pick particular points of pride from the series. "It's such a multi-dimensional experience," Greg continued, "from the artwork to the voice talent to everything that goes into it. It's always new every time you watch it. It's beautiful.
"It's definitely one of those shows where when it's done and you rewatch it, you'll get a different value out of it," Ciro told us. "And we did that for the repeat viewers and the die-hard fans. We try to put enough stuff in there that you can see a through line with some little secrets. Like the visuals are really layered.
"I think the only problem is," he joked, "we're not making it fast enough!"
New episodes of Teenage Mutant Ninja Turtles will kick off in September.