'Teen Mom' Star Jenelle Evans Pregnant With Second Child, Shocked She Can Breastfeed With Implants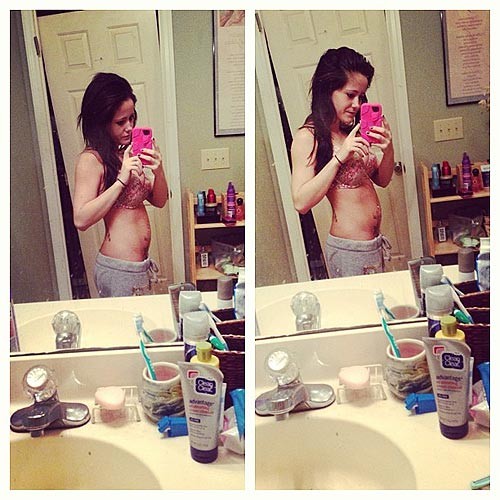 Teen Mom star Jenelle Evans is pregnant again. The MTV reality star tweeted a photo of her barely-there baby bump on Wednesday; writing, "Baby bumpppp. My little angel !"

Evans, who married Courtland Rogers seven weeks ago, denied pregnancy rumors via her Instagram page just two days after getting married to Rogers with the message, "Pregnancy rumors shotttt downnnnn" (see photo below).

Jenelle, who is seven weeks along in her pregnancy (you do the math on that one), tells MTV Act, "I missed a few birth control pills, and found out I was pregnant at a doctor's appointment. I was really surprised."

The troubled 21-year-old lost custody of her first child, son Jace, to her mother Barbara in 2010.

"I know a lot of people will say we're not ready, or judge me from my past," she says. "I want to prove to everyone that I can do this. This wasn't planned, but it happened so we're taking it as we go.

"Courtland and I are happy and excited now. We have our own place, we're married, and we're both working. We know having a child can be difficult, but we're going to do our best."

Evans hopes to regain custody of her first-born soon, saying that she and her mother recently discussed it.

"My mother and I had the best conversation yesterday about getting Jace back in the future," she tweeted early thursday morning. "Everything is looking up for me!"

She also did a little research for when her second baby arrives.

"Weird...... I can still breast feed with implants..... Lol THAT will be interesting," she says.
She got hers last May.