'Teen Mom' Star Farrah Abraham Reveals Her New Face, Has No Regrets Over Surgery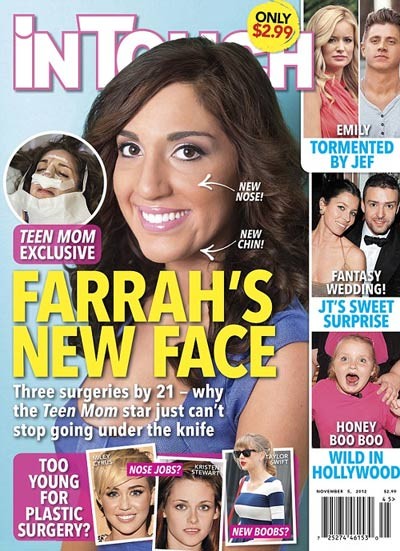 Teen Mom Farrah Abraham has a new face. The reality TV star, 21, recently had a nose job and an implant put in her chin to go along with the breast implants she had done in 2010.

Together the three procedures set her back around $21,000; and Farrah shared her reasons for her latest trip under the knife in the new issue of In Touch Weekly.

"I've hated my nose since I was 13," she tells In Touch.

"I don't have to hate anything on my face ever again," she adds. "I feel gorgeous!"

Dr. Michael Salzhauer performed the procedures on Oct. 7 in Bal Harbour, Florida; and Farrah has no regrets over any of the work she's had done.

"I hate that my surgeries cost this much, but it was worth it," she says.

Last year she explained why she decided to have her breasts increased from a size A to a size C.

"I thought I lost 'boobage' from having a baby," she told Us Weekly.

The aspiring model, who gave birth to daughter Sophia in February 2009, says that when she had her implants done it was a "challenging time" but "it's helped my confidence and [made me] feel more like a woman."

Farrah is currently out signing copies of her new book, "My Teenage Dream Ended," which was released on August 14th.

Read more about Farrah in the new issue of In Touch Weekly, on newsstands now.