'Ted' Star Mila Kunis Talks Dating, Ashton Kutcher Rumors, And Gaining Weight In The August Glamour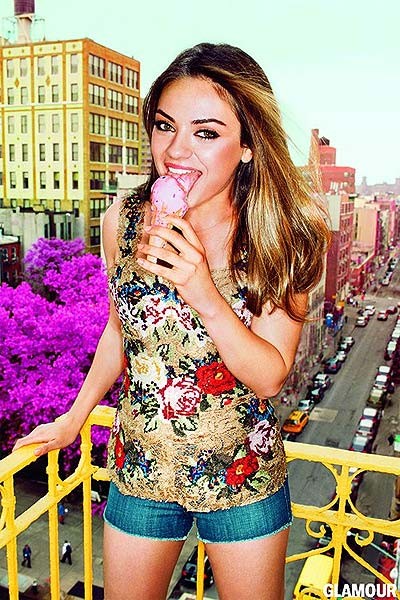 Mila Kunis stars in new comedy Ted, about 35-year-old stoner (Mark Wahlberg) whose best friend is a teddy bear (Seth MacFarlane) that came to life as the result of a magical childhood wish.

Mila also stars in the August 2012 issue of Glamour magazine and discusses dating, those Ashton Kutcher rumors, and her drastic weight gain (yes, gain) after dropping 25 pounds for her role in Black Swan.

As far as meeting new guys and 'playing the field,' so to speak, Mila says she's "never dated" before, but she does maintain an active role in the love-lives of her best friends.

"One of my really good friends met her fiancé on an OkCupid-style website," she tells Glamour. "OkCupid's really popular—all my girlfriends have joined. I love those sites. I go on and I pick the guys for my friends. I think it's great... We all get together with our laptops and have a glass of wine. Then we message the guy."

She also reveals that if she wasn't an actress she would use online sites to meet guys herself.

"If I didn't do what I do, I would do Internet dating instead of going out to bars. In two seconds I would. It makes so much more sense," she says.

And speaking of dating, Mila was spotted with her former That 70s Show co-star Ashton Kutcher a couple times back in April, and the two were rumored to be romantically linked. Both stars denied the stories, though, saying that they're just old friends; and Mila has some harsh words for the paparazzi over the incident.

"Ninety-nine percent of it is bulls--t. That is the biggest form of bullying ever, the paparazzi," she fumes. "Printing lies, making accusations, it's just bullying."

The paparazzi aren't the only folks who have Mila frustrated - it's the weight critics as well. After dropping down to a miniscule 98 pounds for the hugely successful Black Swan, which she starred in opposite Oscar winner Natalie Portman; Mila put on 25 pounds and returned to her "normal body." But after the weight returned, so did the critics.

"[E]veryone was like, 'Gosh, you're really too skinny,'" she says. "Then my weight started bouncing back and they're like, 'She looked better when she was anorexic-looking.'

"You can't please anyone!"

Regardless of what anyone else thinks, she's much happier where she is now, revealing that her body felt "Flat, flat, flat" being so skinny.

"There was no shape, no form, nothing, nothing."

Check out Mila's full interview and spread in the August issue of Glamour, which hits newsstands everywhere July 10.