Ted Danson Is The Best Thing About HBO's Disappointing 'Bored To Death'

HBO's unconventional new comedy
Bored to Death
, starring
Jason Schwartzman
,
Ted Danson
and
Zach Galifianakis
, left us feeling a little bored. The show has great potential with a brilliant cast, but it failed to get us hooked. We're not ready to throw away the show all together, however. Here's hoping the remaining episodes will have stronger dialogue and more guts.
The show succeeds in originality with the main character doing freelance detective work, which gives the cast a lot to play with. But it seems to come up empty sometimes. Jason plays Jonathan Ames, a young Brooklyn writer who is feeling lost after going through a break-up. Dumped by his girlfriend because he couldn't give up white wine and marijuana, he is struggling to complete his second novel and decides to become a private eye due to his love of detective novels.
Jonathan posts an ad on Craigslist and is surprised when he gets a call within a few days. A young woman would like him to find her sister, but he ends up adding his own personal problems into the client's situation. Ted Danson plays George Christopher, Jonathan's mentor and needy boss at Edition Magazine who seems to like Jonathan for one reason - he's his source for marijuana. Ted is probably the funniest of all of the main characters and always pops up out of nowhere craving weed. Zach Galifianakis plays Jonathan's best friend Ray Hueston, a struggling cartoonist who is dating a divorcee who has two kids and lacks a sex drive.
There were a few funny moments and some hilarious references to Craigslist, but with a cast as funny as this we expected more. We were especially excited to see guest star
Kristen Wiig
, but unfortunately she didn't appear in the pilot episode.
Oliver Platt
and
Parker Posey
are also slated as guest stars this season, which gives us hope that "Bored to Death" might get better as it gets further into the season.
It's disappointing that Schwartzman's character is so similar to the characters he usually portrays. It is also sad that the title can almost directly relate to how you'll feel after watching the pilot. Hopefully there is more exciting detective work to come in the next few episodes.
"Bored to Death" premieres its eight-episode first season on HBO September 20 at 9:30pm.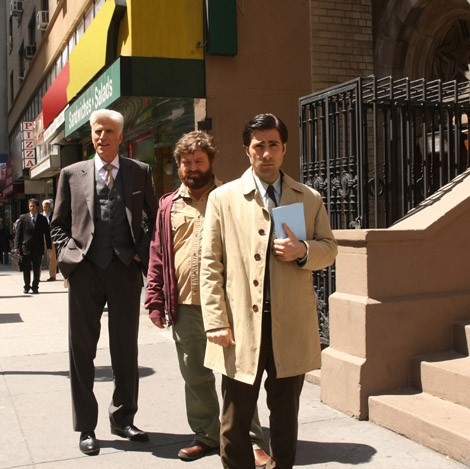 Image © Home Box Office
Story by
Erin Demchak
Starpulse contributing writer