Tech N9ne Breaks Rib Falling Out Of A Helicopter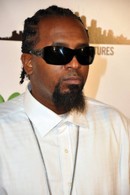 Rapper Tech N9ne struggled through injury to play for troops in Kuwait over the weekend after he broke a rib in a freak fall from a helicopter.

The hip-hop star thrilled soldiers stationed in the Middle East with a special show, but he was hiding a painful secret during the performance.

He had fallen from a helicopter and damaged a rib prior to his set, but dosed up on painkiller Percocet to ensure he could honor his gig commitment.

In a post on his Twitter.com page, Tech N9ne writes, "Don't ever break, crack, or bruise a rib 'cause breathing hurts! But they gave me Percocet so it lessens it a lil (sic) bit! Whatever shot they gave me in my left butt cheek got me thru (sic) that show!"