Team USA Gymnast McKayla Maroney Gets In On Her 'Not Impressed' Internet Meme
>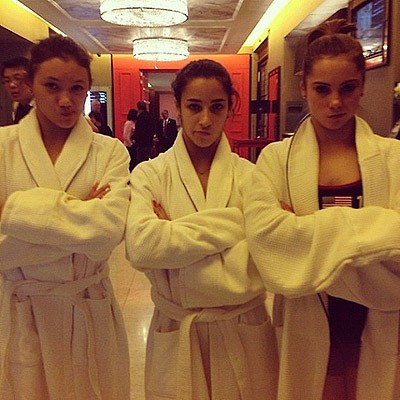 16-year-old Team USA gymnast McKayla Maroney found herself as the subject of a new internet meme last week thanks to the scowl on her face after failing to win gold in the individual vault final at the London Olympics.

McKayla, who is considered to be the best female gymnast in the world and was the heavy-favorite to take the top honor in the event, botched the landing on her second try on what was otherwise a perfect attempt. When her feet slid out from under her she went straight down on her backside -- all but killing her chance at the gold medal .

Romanian Sandra Izbasa followed shortly after Maroney's attempts and received higher scores for her flawless attempts and won gold; and the pouty look on the American's face made it obvious that she wasn't happy with her performance.

Maroney even struggled to hide her disdain when congratulating Izbasa and still couldn't suppress it during the medal ceremony -- and since then photos of the look have gone viral.

The internet meme, called "McKayla is not impressed" can be viewed in all its hilarity at mckaylaisnotimpressed.tumblr.com; but now McKayla herself has gotten in on the joke. The gymnast posted an image on her Twitter page of herself and teammates Aly Raisman and Kyla Ross smirking with the message, "The pool is closed.. #notimpressed".

"I didn't deserve to to win gold if I landed on my butt," McKayla told the press; including USA Today. "I'm not disappointed about the silver, I'm disappointed about my performance."

McKayla returned to the United States shortly after the games wrapped on Sunday, posting the below image with the message, "So good to be back in the states.. I'm really going to miss London though, so many good memories!"