Team Behind 'Mystery Science Theater 3000' Introduces Cult-Film Comedy's Newest Series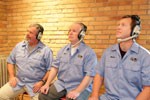 LOS ANGELES, CA -
Mystery Science Theater 3000 (MST3K)
was one of the most successful cult comedy shows of all time, with 199 episodes on Comedy Central and the Sci-Fi Channel, and a feature film over the course of its 11-year run. Now the writers and stars of MST3K-- Kevin Murphy, Bill Corbett and the head writer and on-air host Mike Nelson-- bring their hilarious brand of film commentary to a new line of B-movie send-ups as
The Film Crew
. The three guys in
The Film Crew
work in the dank basement of an office building. Each day, their boss, the entertainment mogul Bob Honcho, calls them up on speakerphone and gives them their assignment, which is to decimate yet another Hollywood clunker with their incisive commentary.
In the fall of 2006, Shout! Factory launched a guerilla marketing campaign targeting fans of
MST3K
, screening segments of the films and allowing fans to vote on which B-movies they most wanted to see skewered. Now, the results are in and Shout! Factory proudly announces the debut of its DVD line-up from
The Film Crew
, beginning this summer with
The Film Crew: Hollywood After Dark
, a 1968 film about a down-on-his-luck loner who falls in with the wrong crowd in Tinseltown and finds salvation in the arms of a stripper (
Rue McClannahan
of TV's
The Golden Girls
in her skivvies). Shout! Factory's first-ever direct-to-video title,
The Film Crew: Hollywood After Dark
debuts on DVD July 10, with a built-in 'crew' commentary track and live-action interstitials.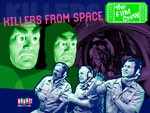 On August 7, the second DVD in
The Film Crew
series arrives in stores.
Killers from Space
stars
Peter Graves
(
Airplane
,
Mission Impossible
) as a nuclear scientist abducted by aliens to facilitate their invasion of earth. This cult classic features such '50s-era sci-fi favorites as A-bombs, genetically mutated super-sized creepers, and aliens with bugged-out eyes (suspiciously resembling halved ping pong balls).
Additional releases are planned for the fall, with such campy fare Steve Reeve's
Giant of Marathon
and
The Wild Women of Wongo
all slated for 2007 release. See previews of these movies getting the Film Crew treatment at
www.filmcrewonline.com