TBS's 'Wedding Band' Rocks Saturday Night Television
Now there's a great reason to stay home on Saturday nights. TBS's Wedding Band is the best new comedy of the TV season: a show that delivers great laughs, fantastic music and even a few genuinely touching moments.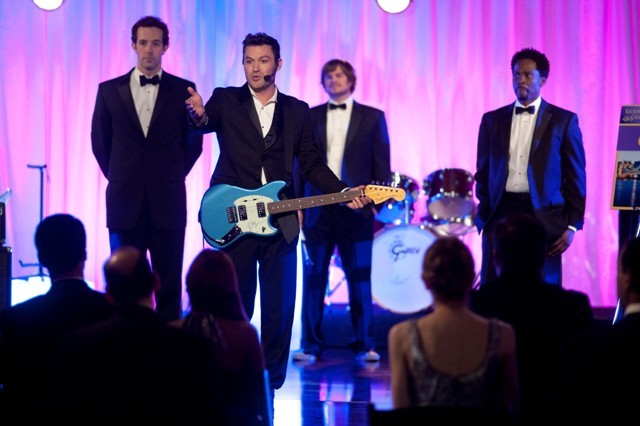 The premise sounds like standard sitcom fare: it tracks the exploits of the titular band, called Mother of the Bride and made up of lead singer and ladies' man Tommy (Brian Austin Green), guitarist and family man Eddie (Peter Cambor), the drummer who doesn't know they're not rock stars Eddie (Derek Miller), and bassist and session musician Stevie (Harold Perrineau). Often involved in Mother of the Bride's adventures are Eddie's wife, detective Ingrid (Kathryn Fiore), high-strung event planner Roxie Rutherford (Melora Hardin) and Roxie's well-meaning junior planner Rachel (Jenny Wade).
Yet Wedding Band is not your ordinary sitcom. This is a comedy for people who want more than the stuff of sitcoms. For one, it's an hour long as opposed to the traditional half hour, so the writers have the ability to set up longer stories and explore their characters better. These are not stereotypes and the situations they're in aren't just setup and punchline. In four episodes, viewers have gotten a sense of what it really takes for Eddie to juggle parenthood and the band, how Tommy is a genuinely good guy even if he can't keep a woman, and seen how Roxie is much more than just the band's overbearing boss. And mercifully, there is no laugh track.
There are plenty of unique ideas that keep the show interesting. In those four episodes, the band has played an adult prom, a 'white trash' themed wedding, and a funeral, just to name a few. It's clear that the writers are making the most out of their premise.
The ensemble of Wedding Band is one of the best comedic groups in a long while. As fantastic dramatically as Brian Austin Green was in Terminator: The Sarah Connor Chronicles, that's how great he is comedically here. He has the charisma to be believable as the leader of the band, but he's also fleshed out the character as not just the front man, but someone who's flawed and also endearing.
Peter Cambor, who was truly underused in his time on NCIS: Los Angeles, shines in a larger role on this series. His Eddie is everything that Tommy is not, and they balance each other well, but Cambor keeps him away from being just the straight man everyone else's crazy bounces off of. He loves his family, but you can see the inner rocker that still lives inside him, too.
Derek Miller gets the part with the most one-liners and is great at delivering them, but also imbues Barry with a heart and a brain to go with his humorous antics. Harold Perrineau hasn't been this funny since he was Leo Banks in The Unusuals. Audiences know him as a great dramatic actor on shows like Lost and Sons of Anarchy, but Perrineau has never gotten enough credit for his comedic ability, and hopefully Wedding Band will change that.
On another series, the ladies might be just there to be foils to the men. Not so with Wedding Band, where Ingrid is a wife, mother, and dedicated cop who isn't to be trifled with, where Roxie is both a demanding boss and also someone who can have fun once in awhile, and Rachel has her own relationship and career issues to deal with. Played by a trio of wonderful actresses, these women don't need the guys to be entertaining characters.
If solid writing and even better acting isn't enough to convince you to tune into Wedding Band, there's also this: Mother of the Bride is a real band. Green, Cambor, Miller and Perrineau are all really singing and playing their own instruments. You can even purchase their versions of the songs they play on iTunes after each episode. No offense intended to Gwen Stefani, but I've had the Mother of the Bride version of 'Hollaback Girl' stuck in my head for nearly a month. Kudos are in order for the show's musical maestro, Adam Schlesinger of the band Fountains of Wayne, who also penned the catchy title track from the movie That Thing You Do! This foursome could be a full-time band if they wanted to be.
With hilarious stories and a cast that delivers both the laughs and honest musical talent, Wedding Band has been a pleasant surprise this TV season. Fans of comedy and fans of music should check it out tonight - it's cheaper than going out to a club and the music's probably better, too.
Wedding Band continues its first season tonight at 10 PM ET/PT on TBS.
For more from Brittany Frederick, visit Digital Airwaves and follow me on Twitter (@tvbrittanyf).

(c)2012 Brittany Frederick/Digital Airwaves. Appears at Starpulse with permission. All rights reserved. No reproduction permitted.