Taylor Swift Talks About 'Fleeting Moments Of Happiness' At 'Giver' Premiere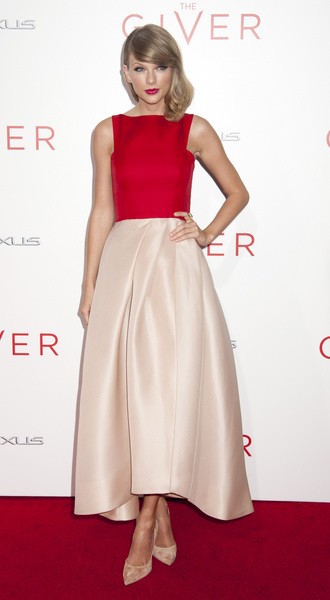 Taylor Swift was honored to have a small but pivotal role in the movie "The Giver" because of the message the film sends to viewers.
The pop star entered the project at the last minute and flew to South Africa to shoot scenes with Jeff Bridges. She explains that she was excited to be a part of such an important project.
She told WENN, "It was unbelievable to even think I would have the opportunity to work with Jeff. It's just an unbelievable concept that I would get to do this. It's sort of this dream scenario where I get to have a very small role that has a pivotal part of the story but isn't jumping into too deep water.
 
"It was a story that stuck with me through my childhood and the book is by an author that I respect. It celebrates all the things that I hold really dear and the things that are most important are history, music, art, intellect and our memories. That really had a great deal to do with why I had to be a part of this.
 
"So many of my fans write to me on Instagram and Twitter saying that they're having such a tough time with life because they can't imagine that we can experience such great pain, such intense loss, such insecurity. And the thing that I wish I could tell them over and over again is that we live for these fleeting moments of happiness. Happiness is not a constant; it's something we only experience once in a while but it's worth it. And I that's what in particular drew me to this movie."
"The Giver" opens in theaters on Aug. 15. The film takes place in a seemingly utopian future without crime, sickness or racism. When 12-year-old Jonas is selected to become the Receiver of Memories, he learns that those before him may have given up their humanity to live in such a "perfect" world.