Taylor Swift Surprises Fan By Showing Up For Her Bridal Shower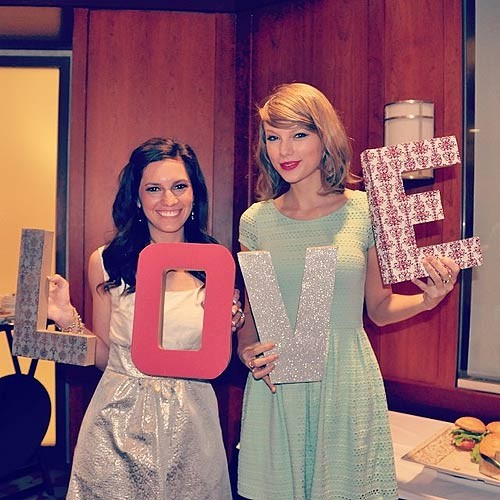 Taylor Swift might be the awesomest star of all when it comes to what she does for her fans.

The singer, who recently spent five hours visiting the Hasbro Childrens Hospital in Rhode Island, continued her long string of good deeds by showing up to superfan Gena Gabrielle's wedding shower in Ohio over the weekend.

She even brought a gift.

"I was going to say I had no idea Taylor was coming it was a complete surprise. She's an incredible person and amazing friend," Gena wrote on her Twitter after the bridal shower.

Gena told the "Today Show" that Taylor planned her appearance with her management and her mother. "[Taylor] said it was all worth it because [the look on] my face was priceless," she said.

Taylor didn't cheap out on the gift either -- she gave Gena a high-end KitchenAid stand mixer, Le Creuset cookware and personal touch: a hand-written recipe.

"@taylorswift thank you so much," Gena tweeted afterward. "I can't express how much seeing you today means to me... I had the best day with you today.

Gena explained that the singer didn't "crash" the party, she was actually invited. The bride-to-be actually met Taylor on several occasions during fan meet & greets and other events, and during one of them she invited Taylor to her wedding.

"Taylor didn't crash the bridal shower she had an invitation ;)," she tweeted. "I'm really not that special and I'm still in awe she did this for me."

Gena also explained that Taylor's management team told her that there wasn't time in her schedule to make the trip, but Taylor wasn't having any of that.

"Apparently they told Taylor she didn't have time and she said no I'm going to ohio I can't make the wedding & I promised her," Gena explained said.

"This is my first bridal shower," Taylor said at the event, "and Gena's last."


Taylor left! But today was amazing! Thank you for making today even more special. pic.twitter.com/J7voNcHdtH

— Gena Gabrielle (@GenaGabrielle) April 13, 2014
Everyone who was there is saying how friendly and sweet Taylor was today. Sophie said she can't wait to tell her class tomorrow ?

— Gena Gabrielle (@GenaGabrielle) April 13, 2014