Taylor Swift Still Hasn't Found Her 'Great Love'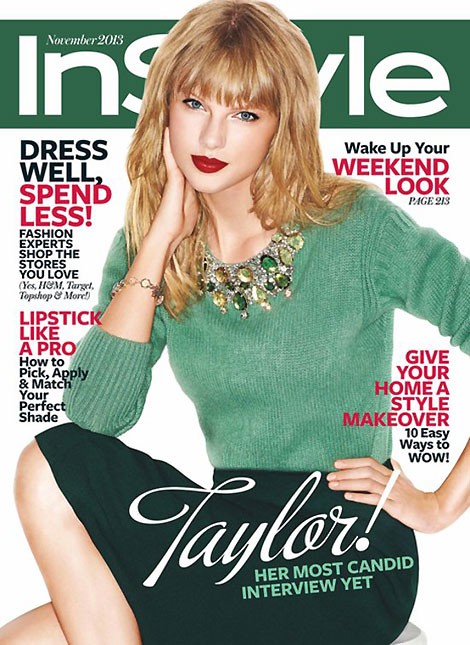 Taylor Swift doesn't want to end up with a "bad" boy and admits she has yet to find the love of her life.

In a new interview with InStyle, the singer, 23, admits that although she thinks "shady" guys are attractive, she doesn't want to get serious with someone who has those type of qualities.
Swift also believes she needs to "change" what she looks for in a man.

She told the magazine: "I think it needs to change. My friends tease me about the fact that if someone seems bad or shady or like they have a secret, I find them incredibly interesting.

"That's just a phase I've been in lately. I don't think this should be how I proceed in life. It's important to be self-aware about these things because you don't want to end up with that guy."
The pop star has been involved in several high-profile, yet short-lived romances with stars including One Direction's Harry Styles, John Mayer and actor Jake Gyllenhaal.
She rationalizes that none of them were "the right fit."

She explained: "Sometimes you know after two dates that you're not the right fit. And sometimes you know you're not the right fit, and you fall for it anyway. One thing I've learned that I'm proud of - drum roll, please - is when to walk away. I've had some short relationships because I know when to do that."
She continued: "I think that you can love people without it being the great love. (pal Ed Sheeran) says there are different kinds of love: There's physical attraction, mental attraction, and emotional attraction; there's also comfort and obsession. You need to have all of those things in one person. You have to mentally respect them, be physically attracted, and have a comfort level. You're obsessed with them, yet you also know they're going to stay. I've never had that in one person."
Swift also admits she has been single for a long time. "I'd like to think if you're with the right person, you just feel great about things you've never felt great about before. At least that's how I've heard it's supposed to be. I wouldn't know," she said.