Taylor Swift, Sheryl Crow Join The Rolling Stones Onstage In Chicago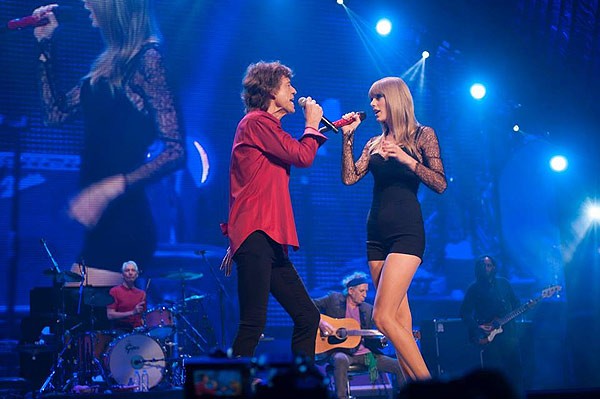 The Rolling Stones have had a whole slew of famous guests joining them on stage during their "50 & Counting" tour, ranging from John Mayer to Gwen Stefani, and the band's two Chicago shows, bookending the weekend, featured guest spots from Sheryl Crow and Taylor Swift.

No stranger to joining the band on stage to belt out a tune, Crow looked comfortable dancing back and forth with singer Mick Jagger Friday night, even popping behind the drum kit to give Charlie Watts a smooch.

Crow joined the band for a performance of "All Down the Line," off their 1972 classic "Exile on Main St."

Country star Swift tookthe stage on Monday night for a duet on the band's classic "As Tears Go By."

Jagger said the song was "one of the first" original Stones songs that he and Keith Richards wrote together, explaining that it was originally written with the intent for a woman to sing, so it was only fitting for Taylor to join in on the tune.

Tears was originally released by the band in 1965 and never played live until 2005, according to MTV.com. Singer Marianne Faithfull, who was Jagger's girlfriend at the time it was written, recorded the song in 1964 and had a top 10 hit with it.

Check out Taylor's performance below and Sheryl's on page 2...


With Taylor: