Taylor Swift Rocks Madison Square Garden With Some Help From Johnny Rzeznik, Selena Gomez & James Taylor (Watch!)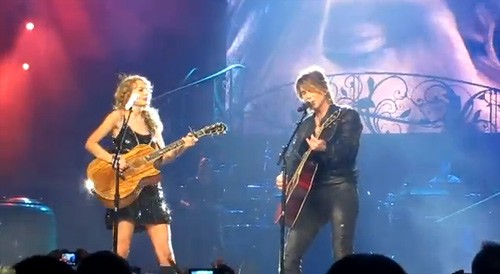 Taylor Swift loves to perform cover songs during her concerts, and she had a little help during Monday and Tuesday night's shows at New York City's fabled Madison Square Garden.

During Monday night's show it came time for her to play her regular cover of the Goo Goo Dolls' hit "Iris" and she surprised the crowd with the Dolls' lead singer Johnny Rzeznik.

"What would you say, New York City, if Johnny Rzeznik from the Goo Goo Dolls was here to sing that song for you tonight?" she asked the crowd before the spotlight lit up Rzeznik and the two belted out a rousing duet of the song (video below).

After the show she tweeted, "Last night, Madison Square Garden was lit up like a Christmas tree - And we got to play Iris with Johnny Rzeznik from @GooGooDolls! Crazy!"

Monday's show was the second-to-last on Taylor's "Speak Now" tour, and fans attending Tuesday night's concert were in for a treat as well - as she topped her penultimate show with help from pop superstar Selena Gomez and the legendary James Taylor.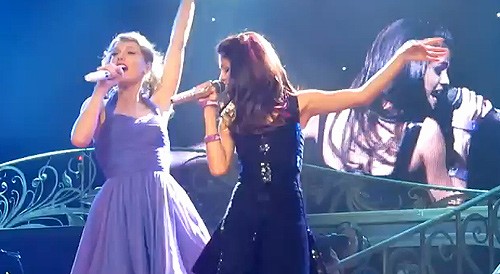 Before Selena took the stage, Taylor teased the crowd, saying that after "four years of being best friends [we] have never sung on stage together.

"And I think that is just such a shame. So it just so happens - it JUST so happens... Selena's here tonight!"

Naturally, the crowd went wild and the two BFFs sang Selena's hit, "Who Says" while dancing back and forth across the stage. After the tune Taylor asked the MSG crowd to let Selena know how much they love her and they gave her a huge ovation before the duo walked off stage together.

Later, when things settled down, Taylor - who revealed that her parents named her after James Taylor - said to the crowd, "The funny thing about playing Madison Square Garden is magical, magical things can happen - and you never know if James Taylor might just walk out on stage."

And then he did.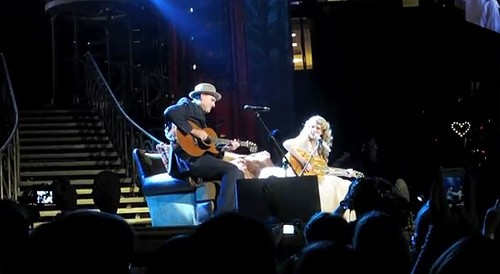 James took a seat on the leather couch on stage and began playing the opening notes to his classic "Fire and Rain" while Taylor, seated next to him, looked on in disbelief, raising one arm and shaking her head. JT later played guitar on Taylor's song "Fifteen."

After the show, Taylor took to her Twitter page and posted, "I have so much to be thankful for this year. I'm leaving New York, replaying this tour in my mind. I love you all so much."

Her new CD/DVD, "Speak Now World Tour Live," was released Monday.
Check out all three videos below!